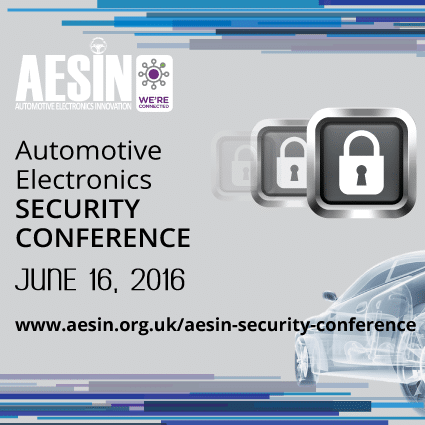 Technology Scotland is proud to partner the Automotive Electronic Systems Innovation Network – AESIN at the AESIN Security Conference hosted by NXP Semiconductors in East Kilbride on 16th June 2016.
Automotive Security now has a major cross-industry focus with increasing levels of connectivity and vehicle system complexity providing tougher challenges to secure against hacks and Cybercrime. This one-day Conference, hosted by NXP Semiconductors will provide insight into the latest thinking and experiences from leading Industry players across the supply chain tackling topics such as secure architecture, cryptographic keys / authentication, resilient application interfaces, the role of software and hardware in protection and remote firmware updates over-the-air.
The agenda for the day is now available online (click here) and major speakers include:
Centre for Connected and Autonomous Vehicles
Green Hill
Interecede
KPMG
MIRA
NCC Group
NXP Semiconductors
Red Bend Software
Sponsorship Opportunities are available, please contact Paul Jarvie to know more.
For more detail on the event and to register, please visit the event website.