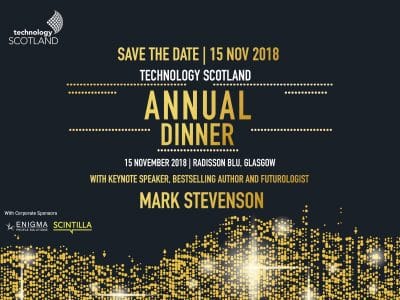 When: 15 November 2018
Where: Radisson Blu, Glasgow
Key Note Speaker: Mark Stevenson, best-selling author, broadcaster and futurologist
Dress Code: Lounge Suit
Kindly sponsored by Optos and NXP Semiconductors, with Corporate Sponsors, Enigma People Solutions & Scintilla IP
** Sponsorship opportunities now available! Download the Sponsor Document here **
Technology Scotland warmly invites you to its 2018 Annual Dinner at the Radisson Blu in Glasgow!
With the sector enjoying strong growth and success over the last 12 months and Technology Scotland's membership reaching over 100 unique organisations, the future for innovation in Scotland looks bright. Now is the time to get involved, so why not join us for an evening of networking and celebration?
We are particularly honoured welcome our Keynote Speaker, Mark Stevenson. Mark is a best-selling author, broadcaster and expert on global trends and innovation. He is one of the world's most respected thinkers on the interplay of technology and society, helping a diverse mix of clients to become future literate and adapt their cultures and strategy to squarely face the questions the future is asking them.
Mark's advisory roles include Sir Richard Branson's Virgin Earth Challenge, the policy and regulation division of the GSMA, future -literacy hub Atlas of the Future, music industry re-boot The Rattle and being resident futurist at The National Theatre of Scotland
In addition to hearing from our keynote speaker, guests will enjoy a selection of canapes, a 3 course dinner with wine, and an excellent networking opportunity in a fabulous location.
Ticket availability
Tickets for the Technology Scotland Annual Dinner are now available to purchase: