Calling all Design Thinkers, Technological Innovators, Artists, Scientists and Civic Entrepreneurs!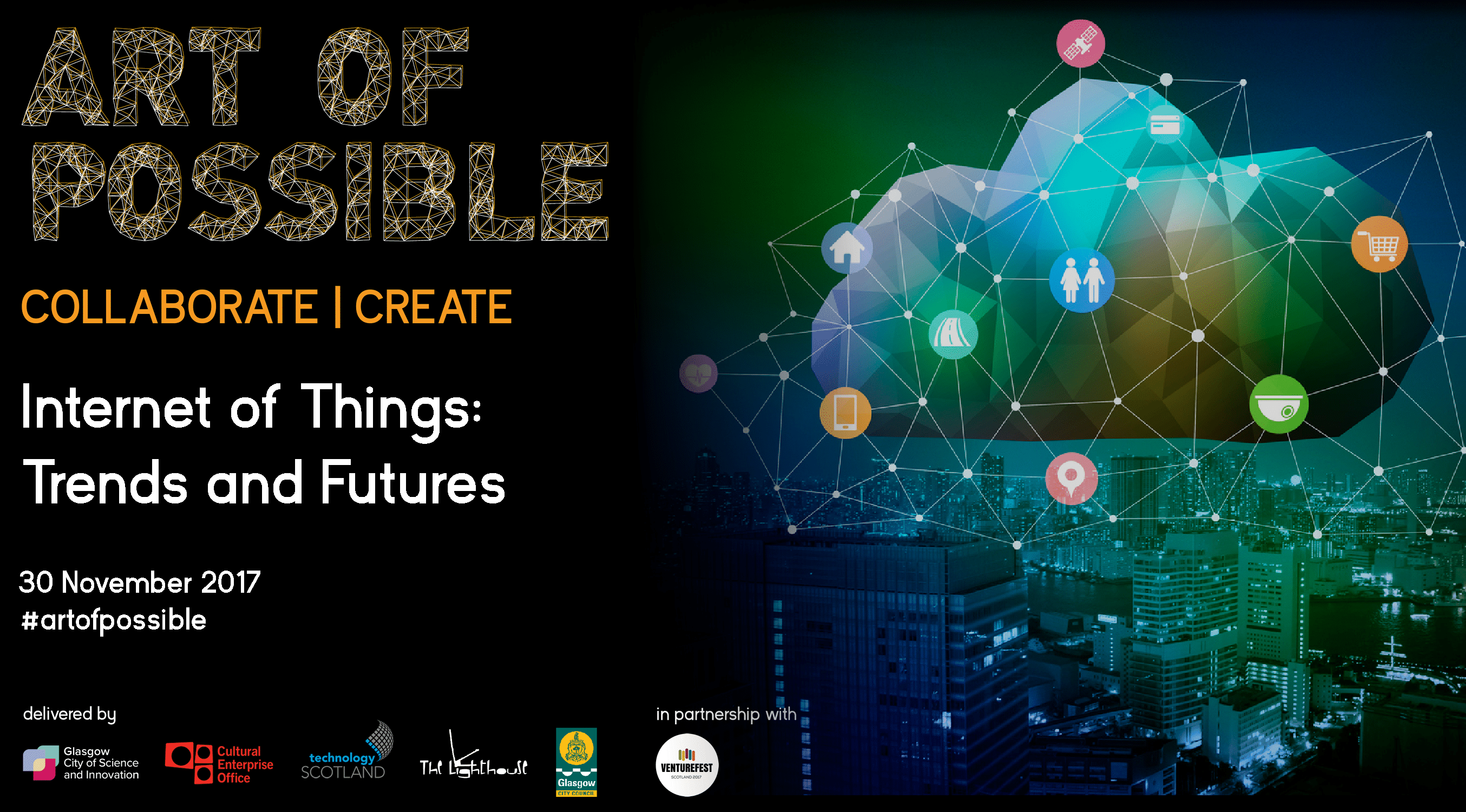 REGISTER
If you want to co-create to innovate the future – this Workshop is for you. Are you interested in how next generation technologies can help us tackle major societal challenges and live better lives?
So are we, and Glasgow is great place to start.
The Art of Possible is a movement bringing together Scotland's creatives, policy-makers and STEM professionals to consider civic uses for the regions' world-leading emerging and enabling (E&E) technologies. Our tech focus for the November event will be the Internet of Things or IoT.
There are some ground-breaking innovators and knowledge experts in Scotland driving our IoT capabilities, from smart home technologies to health-tracking wearables, including your keynote speakers Mr Pete Barrie of Glasgow Caledonian University and Chris McMail – Microtech Group MD & Pete Kerly Telehealth Solutions MD (Part of the Microtech Group).
As a group, we will redefine the "art of possible" by broadening of our understanding and perspectives on enabling IoT in the real-world; sharing resources, sparking creative ideas and supporting creative collaborations toinnovate for society.
We look forward to seeing you there. We want a strong STEAMS (Science, Tech, Engineering, Art & Design, Maths, Social Sciences) cross-sectoral presence to co-create with impact – so share this event with friends and colleagues!
ON THE DAY
BROADCAST: TECH INTRO | Info Session. IoT is already impacting-on and set to transform our daily lives. Pete Barrie will explore and demonstrate some the concepts and technologies that are powering the IoT.  Peter has worked as a lecturer in Computer Science and Embedded Systems at University of Strathclyde, Institute of System Level Integration and Glasgow Caledonian University (GCU). He has also worked in industry as an electronic product designer. Pete is now a Senior Lecturer and Programme Leader for MSc Big Data Technologies at GCU.
Chris McMail and Pete Kerly, our industry experts, will talk about Microtech Group's leading edge Telehealth technologies – tipped to be the future of health and social care. Microtech has been delivering IT and Tech support to Health Boards across Scotland for 30 years. The recent acquisition of Telehealth Solutions has allowed the Group to manage patients with Long Term Conditions within their home environment; empowering individual patients to monitor and manage their own health whilst reducing social isolation, and creating major efficiencies for the NHS across the UK.
AOP 'STEAMS' CHALLENGE | Workshop. Loneliness and social isolation can have a powerful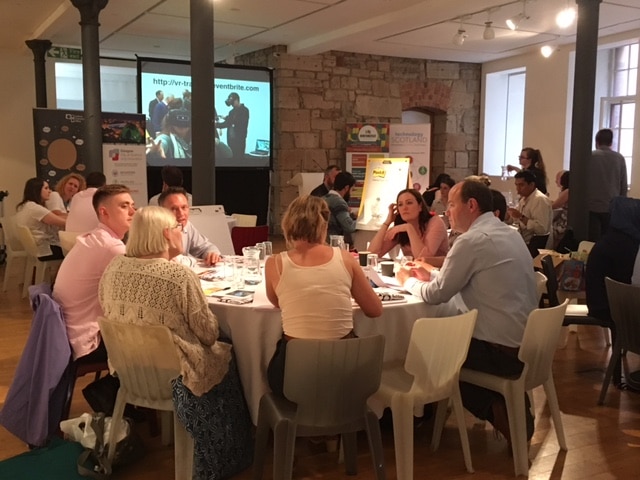 negative effect on health and wellbeing, and life chances – it affects people of all ages and all backgrounds. The annual cost to public services of social isolation and disconnected communities could be costing the UK economy £32 billion every year.  Dr Duncan Booker, Resilient Glasgow Lead, will present on this major societal challenge as a thematic prompt for attendees to share their cross-sectoral knowledge and expertise, and to ideate and co-create potential new applications of IoT to help address this issue.
WRAP UP | Reflections and Discussion
BEER, WINE AND BITES | Get Social
REGISTER