Technology Scotland is delighted to announce that Ivan McKee MSP, Minister for Trade, Investment and Innovation, will give the Opening Address at the 2018 Technology Scotland Annual Dinner.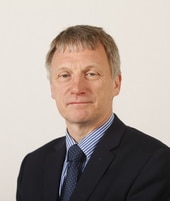 Ivan McKee was appointed Minister for Trade, Investment and Innovation in June 2018. His career has involved a number of senior roles in manufacturing and business, managing companies in the UK as well as Poland, Finland, Croatia and Bosnia.
Early in his career, Ivan spent two years with VSO in Bangladesh. He is currently a trustee of the charity CEI, which supports education and health projects in Bangladesh.
Ivan has been MSP for Glasgow Provan since May 2016. Brought up in Glasgow, he studied at the University of Strathclyde and the University of Newcastle.
The Annual Dinner will take place on 15 November at the Radisson Blu in Glasgow. With the sector enjoying strong growth and success over the last 12 months and Technology Scotland's membership reaching over 100 unique organisations, the future for innovation in Scotland looks bright. Now is the time to get involved, so why not join us for an evening of networking and celebration?