Art of Possible: AR/VR Trends and Futures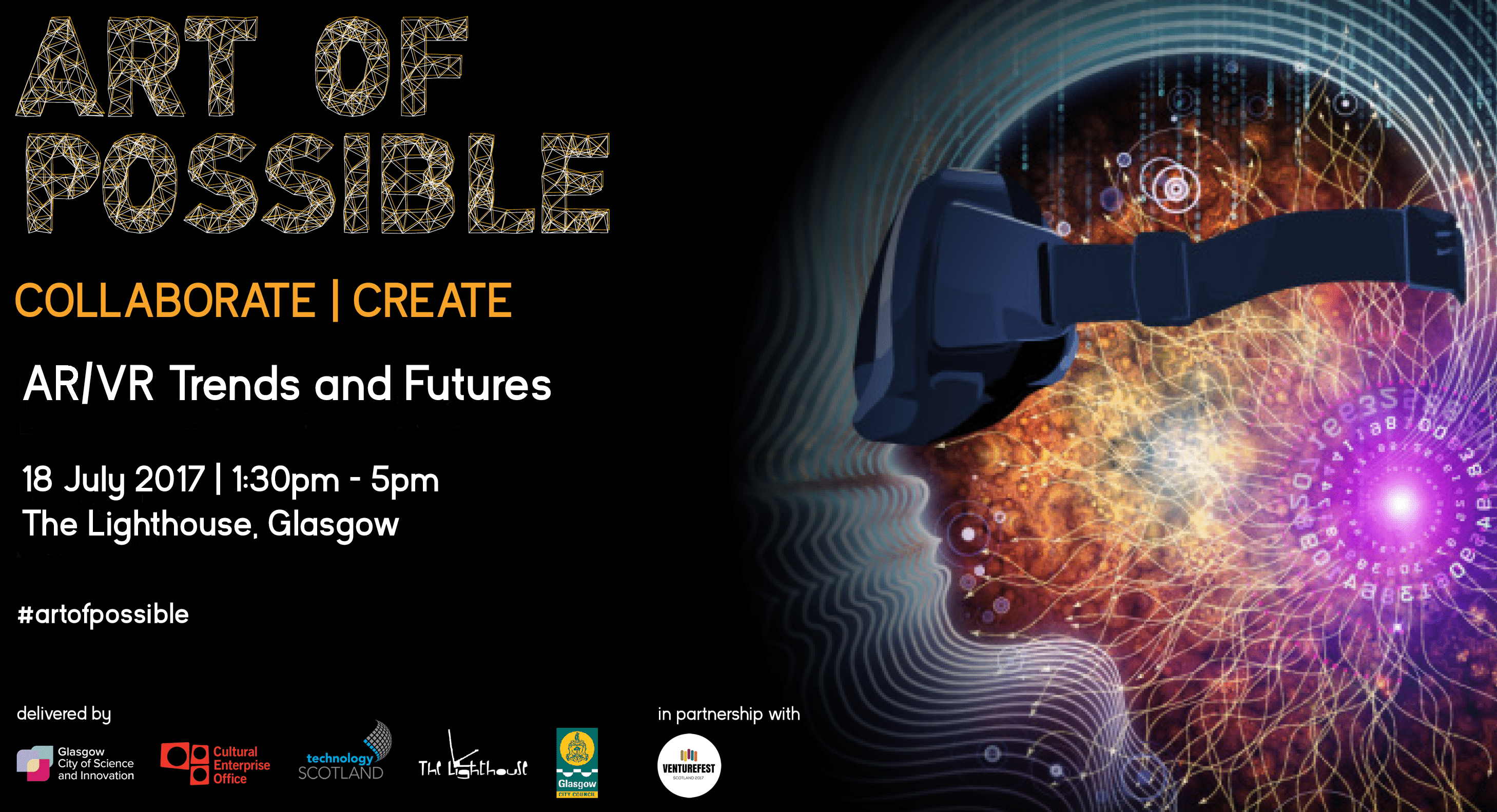 REGISTER
Date: Tuesday 18th July 2017
Time: 13:30 arrival for 14:00 start (attendees are encouraged to network over drinks and bites after the event)
Venue: The Lighthouse Gallery 4, 56 Mitchell Street, Glasgow, G1 3LX
Tickets: Free
(due to high demand, non attendees – without 24-hours notice – will be invoiced £10 following the event).
Calling all Design Thinkers, Technological Innovators, Artists, Scientists and Civic Entrepreneurs!
Are you interested in how next generation technologies can help us tackle societal challenges, and live better lives?
The Art of Possible is a movement bringing together Scotland's creatives, policy-makers and STEM professionals to consider civic uses for the regions' world-leading emerging and enabling technologies.
An official Feeder session for Venturefest Scotland – the national innovation summit; the tech focus for our July Event will be virtual and augmented reality which are proving to have applications across a range of diverse sectors from health, construction and engineering to fashion and film-making.
There are some ground breaking businesses and researchers right here in Scotland including our keynote speakers, Dr. Paul Chapman, Head of the School of Simulation and Visualisation(SimVis) at Glasgow School of Art and Peter Dobson, CEO of Eventual VR, who are leading the way in Scotland's AR/VR capability.
As a group we will redefine the "art of possible" by broadening of our understanding and perspectives on enabling virtual reality in the real world; sharing resources, sparking creative ideas and supporting creative collaborations to innovate for society.
ON THE DAY

1.BROADCAST: TECH INTRO | Info Session
Experts from our partner organisations present and explain the technology (AR/VR)
2. AOP 'STEAMS' CHALLENGE | Workshop
Teams select one of three civic challenges and use their cross-sectoral knowledge and expertise to ideate and co-create potential new applications for AR/VR with social impact.
3. WRAP UP | Reflections and Discussion
BEER, WINE AND BITES | Get Social
We look forward to seeing you there. We want a strong STEAMS (Science, Tech, Engineering, Art & Design, Maths, Social Sciences) cross-sectoral presence to co-create with impact – so share this event with friends and colleagues.
Places are limited, please contact [email protected] with any questions
ART OF POSSIBLE | PROGRAMME
The Art of Possible is a STEAMS programme for the Glasgow City region bringing design thinkers, technological innovators, scientists and civic entrepreneurs across the STEM, social science and creative industries to engage in Glasgow's thriving enabling and emerging technology sector to explore what is possible. The programme provides a creative, participatory space for our diverse innovation community to explore new collaborative ideas, opportunities and partnerships that will drive 'innovation with impact' for both society and the wider economy.
The Art of Possible programme is an alliance of ideas and activities between Glasgow City Council, The Lighthouse, Glasgow City of Science & Innovation, Cultural Enterprise Office, and Technology Scotland.