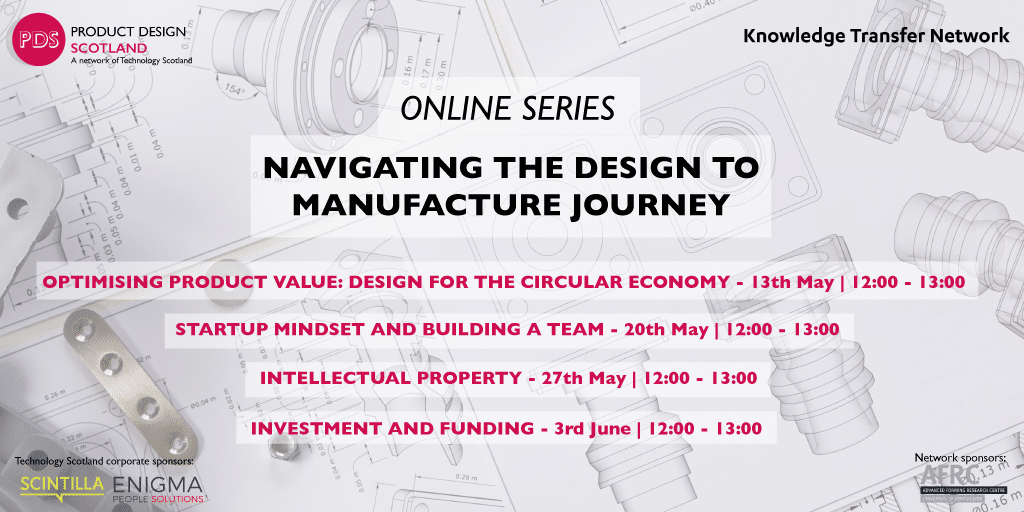 Technology Scotland network, Product Design Scotland (PDS), in partnership with the Knowledge Transfer Network (KTN) announces four new event in the highly popular online event series; Navigating the Design to Manufacture Journey.
Weeks one to four of this event series has been well attended, drawing in large numbers as the events cover a range of key topics to consider when on the design to manufacture journey. From managing costs, building a business case, scaling manufacturing and thinking about design processes and principles, the event series provides key insight from speakers across the sector.
Product Design Scotland, in partnership with KTN, are delighted to share the upcoming schedule of events for weeks five to eight in this series:
Schedule of events (weeks 5 – 8):
Optimising Product Value: Design for the Circular Economy | 13th May | 12:00 – 13:00
Startup Mindset and Building a Team | 20th May | 12:00 – 13:00
Intellectual Property | 27th May | 12:00 – 13:00
Investment and Funding | 3rd June | 12:00 – 13:00
Join PDS & KTN each week for an opportunity to hear from representatives across the design to manufacture space. Experienced innovators and specialists will give their own perspectives on the challenges and important considerations that should inform early stage product development.
Take a look at our news story to find out more details and register today.