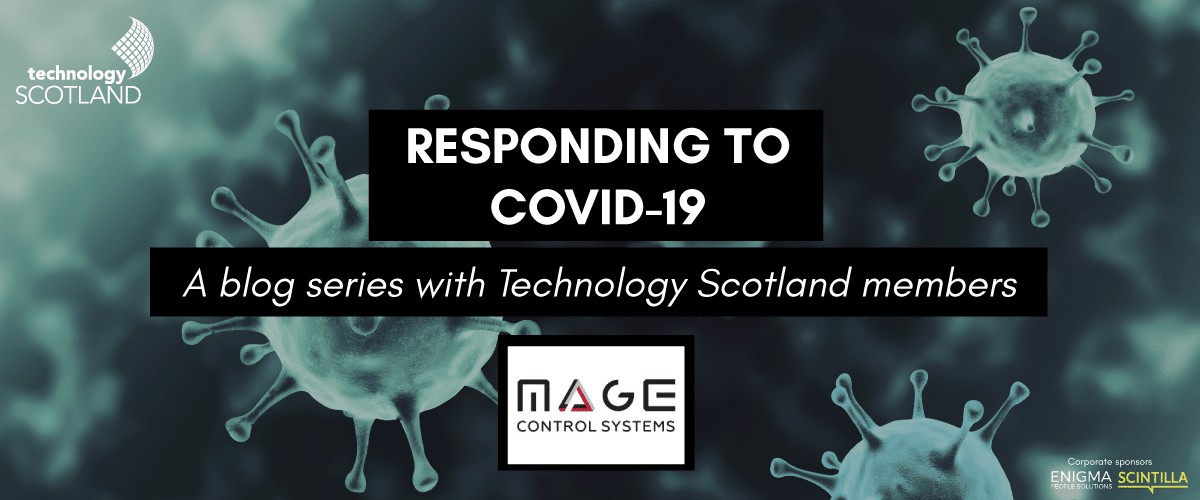 As the situation regarding COVID-19 continues to develop, some of our Technology Scotland members have been able to respond to the calls for assistance we have been seeing across Scotland, and the UK. These responses have taken a variety of forms, from tailoring pre-existing products to provide support in these unprecedented times to innovating business procedures and practices to provide more relevant and efficient services.
We're proud that those of our members who have been able to provide support, have offered their support in such unprecedented and uncertain times.
This week, we're talking to Matthew Love, Managing Director at Mage Control Systems.
——————————————————————————————————————
Hi Matthew, thanks for chatting with us today! First off, can you introduce us to your business, Mage Control Systems?
Mage Control Systems has been serving the various harsh environment markets in product design, across a wide range of industry sectors, for nearly four years. Applying our key expertise and knowledge in power electronics, intelligent sensing, control systems and advanced mathematical modelling for safety critical designs. We have facilitated our clients in commercialising over 30 projects in that time. Our technology agnostic approach to projects has seen the business deliver solutions to product developers close to home and internationally. We leverage technologies across key sectors including Aerospace, Oil and Gas, Energy, Medical, and industrial.
Since the company's inception we have had the attitude that 'scary is good' and we continue to welcome highly challenging designs that many others have failed to deliver. We are always seeking new collaborative relationships working on advanced control and sensing technologies.
Due to the current and ongoing situation regarding COVID-19, there's been a huge shift and change in demand for assistance of all kinds – especially within the product design and development sectors. How did you first become involved in developing these latest solutions? 
Since the COVID-19 lockdown Mage has refocused our efforts due to increased demand in the key areas of ozone generation and UV sterilisation power electronics and control, as these currently represent some of our own in-house OEM products. There has been an expansion also in the areas of the blood analyser electronics that we produce. We are currently working on several new medical and sterilisation products for a range of customers.
The technologies not only provide high voltage power circuitry, but are also web enabled allowing reporting and monitoring of equipment and telematics for portable equipment.
Can you tell us about the solutions you've developed?
In the medical area we have seen increased demand for the blood analysis products being used primarily in hospitals for erythrocyte sedimentation rate analysis.
On the UV, Ozone and Electrostatic sterilisation we have condition monitoring measuring air quality coupled with a range of other sensors which can monitor pollution levels and record this data onto the cloud for analysis. This coupled with telematics allows these units to be used as remote monitoring units as a secondary function.
We are also currently developing Propulsion systems and gas turbine control systems for large UAVs in the aerospace sector, and this work has continued throughout the COVID-19 lockdown. We are also working on two new wind turbine projects for small wind.
Has the design to manufacture process been impacted during COVID-19 for you, and if so, how have you managed this impact? And how has this affected your ability to produce this solution?
Manufacturing was impacted initially, we now have our manufacturing staff back to work after implementing a stringent social distancing policy coupled with a reconfiguration of laboratory and office space.
Engineers prior to COVID-19 worked from home some of the time so it was easy for our design team to adjust to this way of working. Engineers need only come in when they are working on "kit" in the lab during build integrate and test stages of projects.
We are currently looking to expand our manufacturing over the coming year.
How do you envisage the product design & development landscape will change coming out of COVID-19?
The COVID-19 crisis has led to many companies shelving development work for a period to see out the pandemic. There is a risk that these companies will try and claw back this time later. Trying to shorten design projects to unrealistic timescales may lead to failure of the project, and we therefore work closely with customers to manage timescales appropriately.
I am sure that the COVID-19 pandemic will cause large behavioural shifts in society, and it would be good to see more companies embracing home and more flexible working. This will be good for the environment and the reduction on CO2 emissions. More thoughtful use of technology will hopefully lead to advances in greener technologies, at which Mage is at the forefront of.
Are you a member of Technology Scotland that has been contributing to the COVID-19 response? Get in touch with us at [email protected] if you would like to be featured in this blog series.