The journey to a sustainable future is a highly important one, not just across Scotland, but across the whole world.
Ahead of the upcoming COP26 meetings being held in Glasgow in November, we are running a weekly blog series exploring the role of technology in achieving net zero with our Technology Scotland members.
Across the coming weeks, we will be hearing from a wide range of our members on a variety of climate focused topics; taking a deep dive into some of the innovative products created to combat climate change with project focused blog pieces as well as thought-pieces where we will hear from industry experts on the future of technology and its potential applications as we move forward towards a more sustainable future. Plus lots more!
This week we hear from UniKLasers to find out about their energy saving lasers and their applications directly related to reducing carbon emissions in the pursuit of efficient renewable energy. Plus, we take a look at what UniKLasers have been doing as a company to reduce their own carbon emissions, exploring everything from cleanroom operation to office functions. 
DPSS Laser technology for greater energy efficiency
At UniKLasers, we design, develop, and manufacture single frequency and narrow linewidth DPSS lasers.
Design and manufacturing
All our laser manufacturing steps occur in-house. This includes the design and assembly of our controllers and the custom changes we make to PCBs. The full manufacturing and test cycle is conducted at our Ratho Park facility, and our materials are locally sourced wherever possible. While our lasers require consumables and non-renewable materials to function – we seek to minimise waste and re-use parts and components during the build process.
Laser operation and applications
Our laser systems are also provided with online remote diagnostic software, which means we can provide technical and installation support to our customers without the need for long-distance air travel, which reduces our carbon footprint significantly.
During operation, our laser products utilise our unique technology platform to increase overall energy conversion and provide maximum output power with low power consumption. The single frequency lasers offered in our product range approach the theoretical maximum for power conversion, making them as energy efficient as possible during operation.
Compared to cumbersome and costly gas lasers that consume over 500 W of electricity during operation, our compact solid-state design operates with only 25 W. This benefit of low power consumption extends into semiconductor manufacturing and other industrial environments where a solid-state laser contributes to a reduction in energy use. A typical semiconductor fab may consume as much as 100 MW per hour, with energy costs reaching up to 30% of fab operating expenses. Incorporating greener solutions here means a reduction in cost and energy consumption.
The lasers are also used in applications directly related to reducing carbon emissions in the pursuit of efficient renewable energy. One of these applications is the design and manufacture of next-generation solar cells – photovoltaic cells composed of perovskite. Current photovoltaic cells use silicon; however, researchers are exploring perovskite as a lower cost, higher efficiency alternative. A small volume of perovskite material can generate the same amount of solar power as several tons of silicon.
Perovskite is affordable, sustainable, efficient, and has the potential to outpace silicon in the photovoltaics market. Single frequency ultraviolet lasers support the material analysis of perovskite and the ongoing goal of achieving high yield production.
At UniKLasers, we are also involved in national and international projects that aim to reduce the cost, size, footprint, and power consumption of key components used in quantum technology research. One such project is the development of a gravimeter that is used to perform accurate measurements of oil, water, gas, magma, and infrastructure underground – all without intrusive digging or drilling of the environment.
Through our R&D and product development plans, we continue to design and develop new wavelengths to facilitate application areas that contribute to a sustainable world – such as LiDAR, renewable energy, and environmental monitoring.
Reducing our impact on the environment
At UniKLasers, we continue to reduce our environmental impact while maintaining good business practice – finding new ways to implement cost-saving measures and minimise our overall waste and carbon footprint.
Our green efforts are present across all our business functions and start in the cleanroom. We relocated to new premises in the summer of 2020, designing our own space to better work through the pandemic while allowing us to implement several 'eco-friendly' changes. For instance, we built a cleanroom that expanded our production capacity by 300%. The Class 7 classification of our new cleanroom meant that we could upcycle our previous lab's optical benches and tools – instead of sourcing new ISO-stringent equipment required for higher classification areas. However, this also meant outfitting the lab with a suitable temperature and airflow control system. For our cleanroom size, the system we selected is the most efficient on the market and considerably reduces our impact on the environment.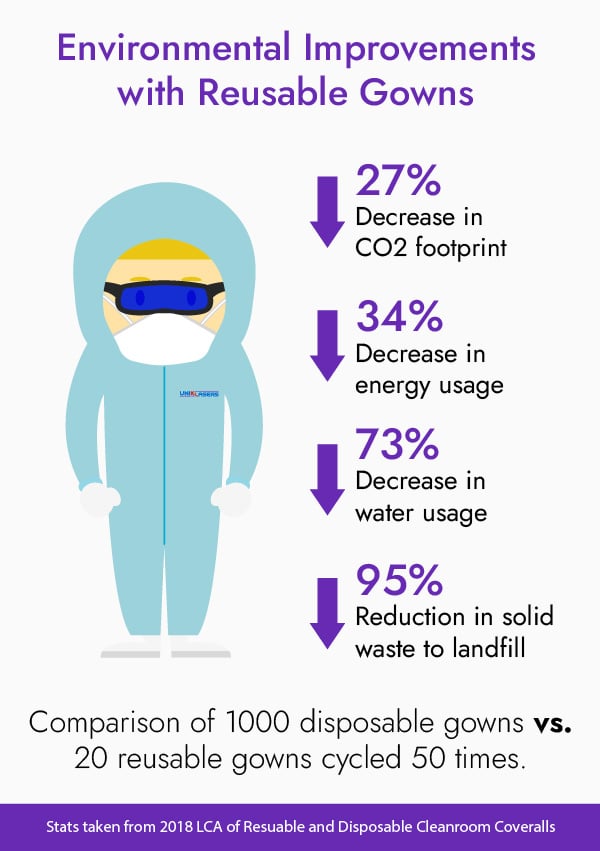 Following the move, we replaced our disposable cleanroom garments with re-usable ones from Micronclean (micronclean.com), a cleanroom garments provider operating with a circular economy product cycle. According to a 2018 life cycle analysis comparing re-usable and disposable cleanroom coveralls, there is an estimated 27% decrease in carbon footprint, 34% less energy used, 73% reduction in water use, and a 95% decrease in solid waste to landfill through the adoption of the re-usable cleanroom coveralls.
For our office functions, we operate on a paperless basis and widely recycle any office waste and supplies. Recently, we connected with a local charity to donate several laptops for refurbishment. Pass IT On (passitoncomputers.co.uk) give donated computers a new life by refurbishing and adapting them for use by people with a disability or long-term health condition in the EH postcode area.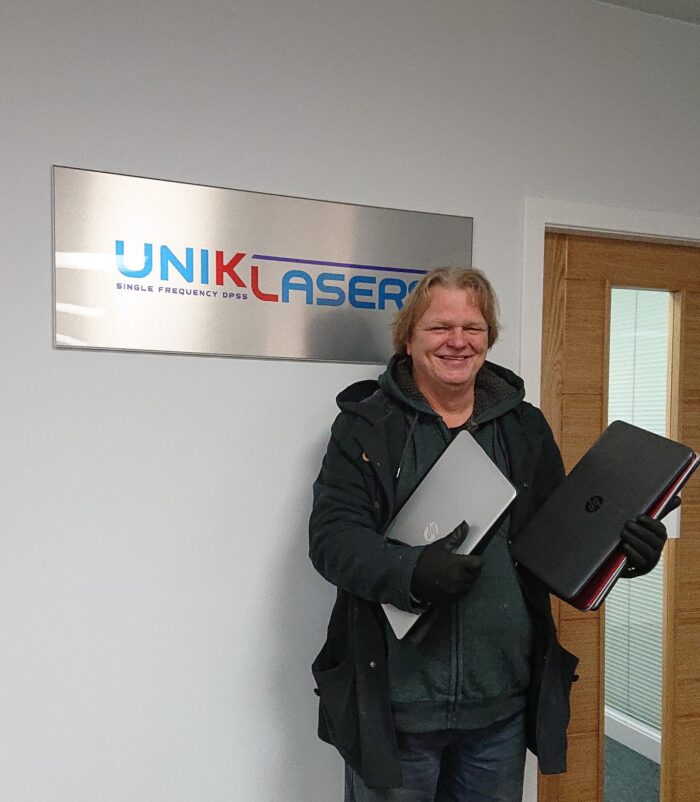 When shipping our laser products, our custom-designed packaging allows us to protect the laser during shipment while routinely re-using un-damaged packing, made mostly from recyclable materials. We also provide customer documents and product manuals in digital form. For purchasing and procurement, our systems are run through a digital app and do not require paper forms to track inventory.
Our server-based set-up for document sharing and communications has allowed staff to work remotely since the company was started in 2013 – meaning fewer of our employees are on the road with a daily commute by car.
Ratho Park (our home) features a secure bicycle shed, showers, and changing facilities that encourage UniKLasers employees to cycle to work. Nearby public transport links allow for a commute with lower emissions, while some of our employees would carpool prior to social distancing guidelines.
On the smaller end of the scale, we employ a 'lights off' policy for empty or naturally bright rooms, stock re-usable kitchen supplies, and partner with local suppliers where possible – over 60% of our suppliers are local to the area.
Are you a member of Technology Scotland and are interested in being involved in our blog series? Get in touch with [email protected] to find out more.