The journey to a sustainable future is a highly important one, not just across Scotland, but across the whole world.
Ahead of the upcoming COP26 meetings being held in Glasgow in November, we are running a weekly blog series exploring the role of technology in achieving net zero with our Technology Scotland members.
Across the coming weeks, we will be hearing from a wide range of our members on a variety of climate focused topics; taking a deep dive into some of the innovative products created to combat climate change with project focused blog pieces as well as thought-pieces where we will hear from industry experts on the future of technology and its potential applications as we move forward towards a more sustainable future. Plus lots more!
This week we hear from Liftango on how they have been helping organisations forge a pathway to greener transport.
Forging a pathway with greener transport
There is a huge commitment needed to reach a sustainable future. More widespread change is required to hit our climate targets set out in the Paris Agreement. The good thing is, positive initiatives are happening now. In this article, we'd like to look at how organisations continue to combat climate change. And surface how we are helping them forge a pathway with greener transportation.
There are two main ways we are helping organisations provide a greener and more sustainable options for transport.
These are:
Providing greater access to shared transport
Decarbonising transportation
Providing greater access to shared transport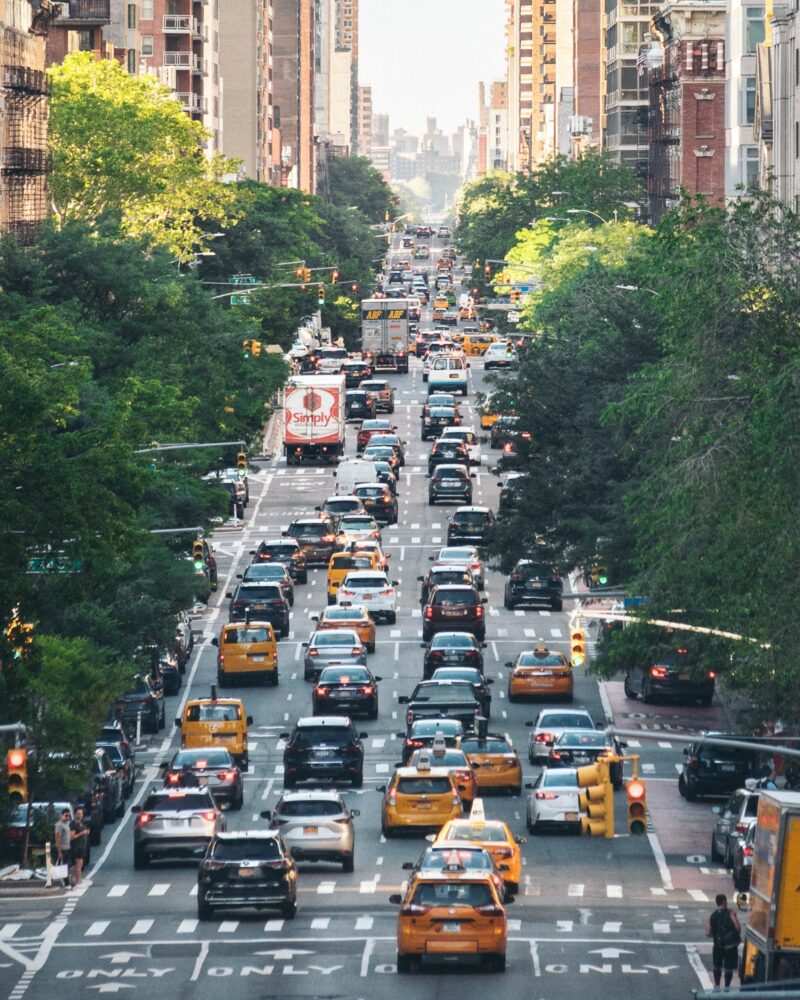 Why is this important?
Simply put, our roads are clogged full of empty cars. Every empty seat is an opportunity wasted to reduce our emissions. Rather than point out the symptom, let's look at the cause and unpack how technology is helping reduce emissions by improving access to shared transport.
Providing better access to equitable and shared transport
A lack of access to convenient shared transportation is a crucial driver keeping us in our single-occupancy vehicles.
People in rural areas made 72% of trips by car compared to 50% of urban residents. This discrepancy is highlighted in the 2020 National Travel Survey. Granted, COVID has impacted our behaviours; however, these trends are consistent. The 2018 National Travel Survey shows 76% and 52%, respectively, adding weight to the underlying behavioural choices compounded by limited options.
Initiatives such as the Rural Mobility Fund and Bus Back Better Strategy shed light on these inequalities. Inequalities echoed in Transport Scotland's 2019 Scottish Household Survey, stating, "People in rural areas were also more likely to drive than those in urban areas". In addition, a recent announcement to provide support for bus operators has been made available to aid a recovery in patronage as Scotland emerges from COVID. Initiatives like this open the door for opportunities to embrace technology and make transport more sustainable.
How shared transport will help forge a sustainable pathway
Public transport is an efficient way of moving a lot of people. The population density in urbanised centres makes running transport feasible, resulting in a lower operational cost per passenger. However, this has left behind the lower density populations and rural communities. Thankfully now, technology that facilitates shared 'on-demand' transport is reconnecting these communities. By improving access to public transport, we can reduce private car use due to a lack of options.
Technology is helping to overcome this inequality and provide services for vulnerable populations. It enables transport agencies and organisations to offer smaller capacity fleets in an agile manner, giving them more reach and allowing passengers to choose when and where they want to travel. This technology is called demand-responsive transport. And it is one mode of transport reducing our reliance on single-occupancy vehicles and forging a sustainable pathway for transportation.
Demand-Responsive Transport's contribution to climate change
Demand-responsive transport (DRT) is changing the narrative for how we access public transport. It provides a level of convenience that can compete with the humble car.
When implemented effectively, we see a shift away from cars to shared transport because it allows passengers the freedom to travel—when and where they want.
This convenience results in an uptake of shared passenger trips. Shared trips have a much lower carbon footprint when compared to driving alone.
Decarbonising Transportation
Many countries around the world have committed to moving away from internal combustion engine vehicles. As a significant contributor to carbon emissions, this makes complete sense. However, zero-emission vehicles are only one aspect of decarbonising transport. We'll also look at the collective efforts by organisations to shift behaviour away from high-carbon modes of transportation to a climate-positive approach using shared transport.
It's easy to think that a transition to electric vehicles will solve all our transport emissions problems, but this is only the tip of the iceberg. Each car we use has a carbon footprint throughout its entire lifecycle. These include emissions created during the materials extraction, manufacturing, usage and disposal phases. This section looks at the product usage phase and how organisations are helping to change behaviours that will ultimately impact the entire lifecycle.
To help illustrate this, we will look at two examples of how organisations already make these efforts.
Auckland Transport's Demand-Responsive Electric Vehicle Fleet
Shared Transport Programs for Corporates
1. Auckland Transport's Demand-Responsive Electric Vehicle Fleet
As New Zealand's most prominent public transport agency, Auckland Transport (AT) has committed to halving emissions by 2030 and reaching net-zero by 2050. A primary contributor to their commitment is transitioning to a low and zero-emission fleet and incentivising the use of public transport.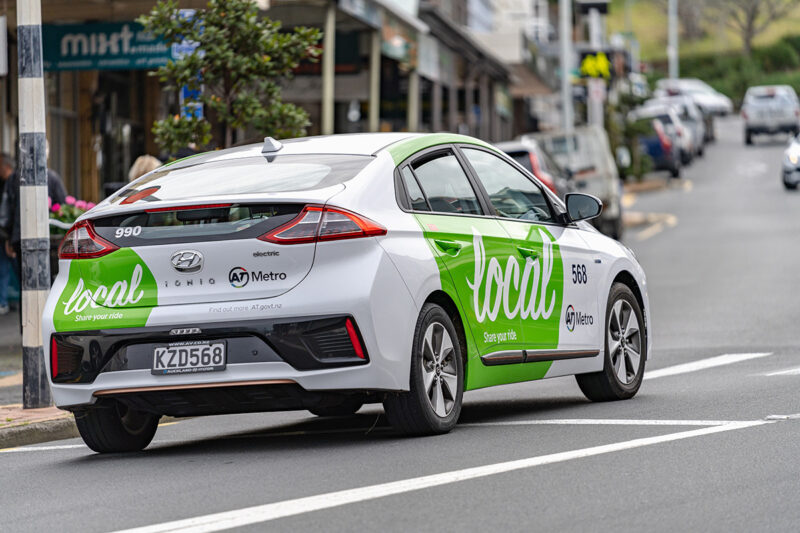 In October 2021, Auckland Transport announced the launch of an all-electric demand-responsive public transport service—AT Local. Supported by Liftango's technology, this service provides much-needed transport in South Auckland and integrates into the wider network providing seamless connections to other AT public transport services.
Another factor in the decarbonisation of transportation is the total miles driven on our roads. Reducing overall miles driven is where demand-responsive transport compliments a low or zero-emission fleet and reduces the overall emissions from single-occupancy trips made on our roads. It also ensures the vehicle is travelling the most optimal route to get its passengers to the destination. The nature of these flexible trips has another positive impact—it provides services where they are needed. This level of convenience now competes and can replace the need for private car use.
Whilst AT-Local's service is an example in the Public Transport space, we also see uptake at a corporate level. Organisations are using shared transport as a means to reduce scope three emissions made by commuters.
 2. Shared Transport Programs for Corporates
We are partnering with companies across the world to support the execution of their sustainability commitments. Enabling our partners to guide their people in more sustainable travel choices is core to our business.
Scope three emissions (indirect emissions created from upstream or downstream activities by assets not owned by the company) continue to take up a significant proportion of a company's carbon footprint. The following outlines two leading organisations implementing Liftango technology to curb car use and provide lower carbon transport options.
With a commitment to half emissions across their value chain by 2030, the world's largest furniture manufacturer is leading the way in a global first, rolling out a six-country carpool pilot for their stores. It is a significant undertaking that illustrates their belief in providing more sustainable travel choices for their employees and reducing their scope three emissions.
"Accelerating the world's transition to sustainable energy" is the mission statement of the world's largest electric vehicle manufacturer. It, too, sees promise in what shared mobility can achieve. To minimise car use and provide more sustainable modes of transport, they offer a carpool program to more than 10,000 employees at their Californian facility.
These organisations have embraced shared mobility services powered by Liftango to help shift journeys to lower-carbon alternatives in a bid to decarbonise transportation. Providing convenient alternatives to driving alone is where technology platforms like Liftango's can play a significant role.
We Help Our Clients Guide Their People
At Liftango, we believe access to transport is a fundamental right. And making transport sustainable is our daily mission. Every shared trip taken is a car off our roads, emissions saved or an opportunity to connect people. Working with global organisations to improve access to shared transport and reshape how people move only gets us closer to overcoming the greatest challenge of our generation—and that's combating climate change.
If you want to find out more, please contact us and speak to one of our friendly mobility specialists.