Technology Scotland is delighted to release its 2017 Skills & Recruitment Survey results, in partnership with its corporate sponsor, HGF ltd

The survey found that Scotland's Emerging & Enabling (E&E) Technologies Sector is optimistic about the future, with almost 90% of businesses stating that Scotland remains an attractive place for technology companies to work.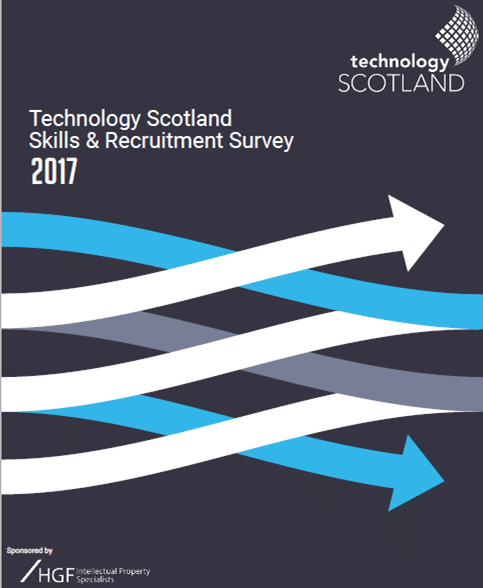 The growth of the E&E sector is crucial to Scotland, currently supplying 10% of Scottish exports and with some 15,000 employees in high skill R&D roles at over 400 enterprises. With an average salary of £36,000, 67% above the national average, it is clear that the E&E sector in Scotland offers attractive benefits to employees and the wider economy, so this positive outlook regarding Scotland as a business location and/or HQ is welcomed.
However, in spite of the rapid growth of Scotland's E&E Sector, it is widely acknowledged that attracting and retaining talent within the STEM industries can be challenging. With some seismic shifts currently taking place in the global political landscape, it is crucial that our community is able to maintain strong growth, respond to any challenges, and remain an attractive place for skilled workers.
Stephen Taylor, CEO of Technology Scotland, said that the results show that the sector remains "vibrant, active and resilient" despite a number of Skills & Recruitment challenges, with 87% of participants believing that Scotland remains an attractive place to do business.
He said: "With Scotland's Emerging & Enabling Sector currently supplying 10% of Scottish exports and employing some 15,000 employees in high-value roles, it is fantastic news for the sector and for the country that so many feel that Scotland is such an attractive location to do business."
Although skills shortages remain an issue, the research suggests that businesses are prepared to embrace a variety of routes to retaining, training and employing staff. 77% of businesses stated that they have funded or facilitated training on-the-job for staff, with 34% reporting that they have taken on a modern apprentice.
The most in-demand vacancies are unsurprisingly technical roles, where participants stated they have a high requirement for a full range of expertise, from modern apprentices to CEO/Director level. The need for university graduates proved the priority though, with 80% of businesses having a high requirement, but 70% reporting disconnect between university focus and industry needs.
Taylor added: "Our survey shows that companies are retaining staff well in spite of current political uncertainties, however when it comes to filling current vacancies and sourcing graduates from Scottish universities, more work is needed to address challenges and avoid further disconnect. We therefore call on industry and academia to work with us to meet the increasing demand for home-grown talent and help secure this high-growth sector as one of Scotland's leading capabilities".
DOWNLOAD THE REPORT