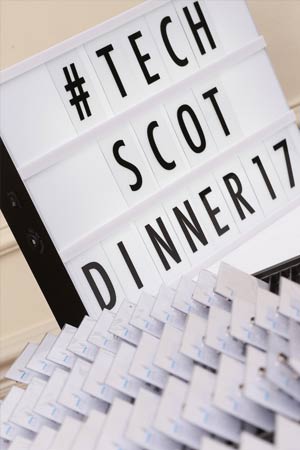 The Inaugural Technology Scotland Annual Dinner was held at the Principal Hotel in Edinburgh on 24 October 2017. After almost two years of operation and significant process made across Scotland's Emerging & Enabling (E&E) sector, we were delighted to welcome members and other stakeholders in the community to celebrate their successes. We would especially like to thank our sponsors, CCL and Optos, for supporting the event.
We were honoured to welcome Dr Ruth McKernan CBE, CEO of Innovate UK to join us as Keynote Speaker for the evening. Technology Scotland is proud of its long-term collaboration with Innovate UK. Over the past two years, members and non-members of Technology Scotland have benefited of the Knowledge Transfer Network funding opportunities for Emerging & Enabling Technologies as well as of the networking events taking place in Scotland, such as the very successful VentureFest 2017.
On the night, Dr McKernan gave an excellent presentation on how Innovate UK is building the current Industrial Strategy, working with industry and academia up and down the country to create a specific vision for UK Research and Innovation. In the last 10 years, Innovate UK has funded over 1,550 projects in Scotland and awarded funding worth £237million. With the recent announcement of the Industrial Strategy Challenge Fund, Innovate UK is now working with all regions in the UK to determine which areas of focus are key to future innovation, including sectors such as satellites and space technology, robotics, self-driving vehicles and medicine manufacturing technologies. With a number of new upcoming opportunities, it is imperative that businesses in Scotland mobilise, stay informed, and collaborate on projects.
Following the Keynote Speaker, attendees enjoyed a three course meal over wine, followed with some valuable networking time. We were thrilled to have over 130 people in attendance, representing 62 unique organisations. With big plans for next year's event already, we hope to see even more of Scotland E&E sector next year!
What our attendees said
"I met people from research organisations and business that are doing work similar to my colleagues and I managed not only to network myself but colleagues that they were not present. What else could one ask?"
"It was a well-organised, smoothly run and extremely enjoyable event. The venue was impressive and easy to get to and from. The mix of participants was really well thought out. As I mentioned above, I made contacts for myself and for my colleagues that could not attend."
"The event brought together many key players from a traditional difficult to engage community"