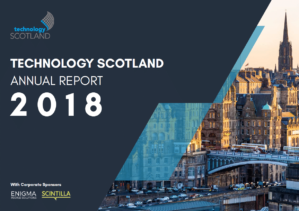 Technology Scotland announces the publication of its latest 2018 Annual Report
Over the last year, Technology Scotland has grown significantly, exceeding 120 corporate members. Through their support and cooperation, we have expanded our activities considerably. Between our 3 networks – MaaS Scotland, Photonics Scotland and Product Design Scotland – we held numerous events, workshops and conferences, secured new funding opportunities and attracted new sponsors – a huge thank you to Enigma People Solutions and Scintilla IP, our Corporate Sponsors, and the AFRC, network sponsor of Product Design Scotland. Read the report now!
READ THE PAPER
Key highlights include:
The creation of our third network, Product Design Scotland
Our most successful Annual Dinner to date, attracting 200 attendees
The announcement of a £2m MaaS Innovation Fund to help develop and upscale MaaS projects throughout Scotland, as a result of our MaaS Vision Paper published in early 2018
The creation of Scotland's first ever Scottish Photonics Week, attracting the EPIC AGM and
International Optoelectronics Association AGM, as well as hosting a Civic Reception to celebrate 25 years of Photonics Scotland and its rebrand.
The publication of our Scottish Photonics 2030 Vision Paper
…and much more!
We encourage you to download the report to read more about our activities and members, as well as our plans for the next 12 months.