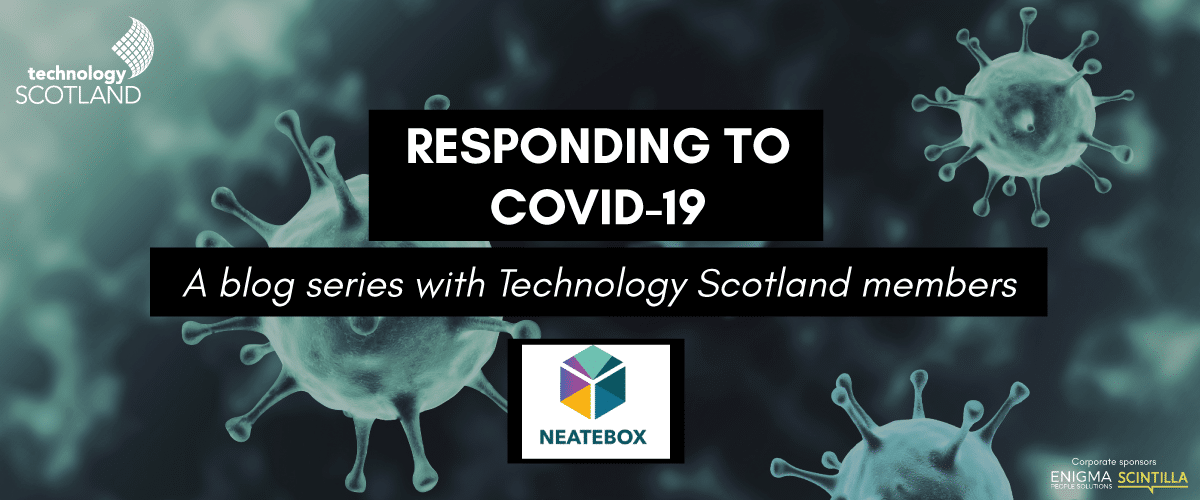 As the situation regarding COVID-19 continues to develop, some of our Technology Scotland members have been able to respond to the calls for assistance we have been seeing across Scotland, and the UK. These responses have taken a variety of forms, from tailoring pre-existing products to provide support in these unprecedented times to innovating business procedures and practices to provide more relevant and efficient services.
We're proud that those of our members who have been able to provide support, have offered their support in such unprecedented and uncertain times.
As a result, we'll be bringing you a brand new, weekly blog series in which we'll be talking to these members, finding out what they've been doing and understanding how they have been responding to COVID-19.
First in our series, we're talking to Gavin Neate from Neatebox.
TS: Hi Gavin, thanks for chatting with us today! First off, can you tell us a little bit about yourself and introduce us to your business, Neatebox?
GN: Hi, it's great to be with you today although it would have been better under different circumstances. That said thank you for the opportunity to share the work of my company with you at this challenging time.
I set Neatebox up in 2011 whilst working for Guide Dogs UK as a mobility Instructor.  I had no intention of owning my own company but in order to access support from Business Gateway starting one appeared to make the most sense.  At this moment the snowball started its journey down the hill. As a mobility Instructor you train blind and visually impaired people how to use their new guide dog.  This involves observing how they interact with their environment and suggesting ways that might be more efficient in conjunction with their new mobility aid. At the same time, this was around 2006, I had become aware of the increasing use of smartphones by my clients and this had the effect of my thinking of ways in which their technology could support them in their strides for independence through mobility.
I had noticed that for many the simple act of pressing a button at the pedestrian crossing or at the disability access door was a real challenge  – further study and an awakening in the respect of people with varying disabilities helped me realise that this was not an issue for the blind alone.
My intention was to find a way that a disabled person could press the button automatically at a pedestrian crossing or door using their mobile phone. By 2012 I had a working model installed in Edinburgh and by 2016, with support from Transport Scotland, had installed the system across the town of Largs and even at RBS HQ in Edinburgh at their on site crossing.  I realised that my business snowball had built up such momentum that I was going to have to leave the job I loved in order to build Neatebox into a scalable company.
By now my brain was racing as to how my new company and approach could solve some of the other issues I had identified during my time with Guide Dogs for the Blind and "Welcome" our Customer Service support solution was born.  Welcome is a customer service system that uses a disabled visitor's location on their phone to inform staff of their needs on arrival at a given destination through relevant information passed on to the service team. This system was launched in 2018 and is now in use across the country with partners including Northlink Ferries, The Scottish Government, Royal Bank of Scotland, Irish Rail, Dundee and Stirling Council, House of Fraser, DoubleTree Hilton and many others including charities RNIB, Guide Dogs and DeafBlindUK.
TS: Due to the current and ongoing situation regarding COVID-19, MaaS has never been more relevant – both businesses and people have had to adapt and change – how have you seen things develop over the past few weeks and months? And, what sort of solutions have you been seeing at the moment that are helping tackle these changes? 
GN: Mobility for us here at Neatebox has always started and ended with the individual. Without being able  to walk out of your front door or into your destination building, all the physical transport in the world is of no use at all.  It's hardly surprising that people have become anxious about leaving their houses and the entire world has taken time to adjust to our new reality. The very best innovations I have seen have been the ones  centred  around the emergency services and their immediate needs.  There is real truth behind the phrase "necessity is the mother of invention" as we have seen makeshift PPE,including a face mask with a transparent screen so that deaf people could lip read a medical practitioner's words. I was also massively impressed with the Swiss company that took off the shelf scuba gear and turned it into surgical breathing apparatus.
Of course there is other innovation out there but it will more than likely go unnoticed for a few weeks as we adjust to our new normal.
TS: How do you think things will change throughout the MaaS landscape beyond COVID-19?
GN: When out and about in the public domain, I've always been aware of what I've been touching, lift buttons, door handles etc., but everyone will now be increasingly wary of public transport and other shared environments.There will be a need for transport providers and building owners to be seen to clean surfaces regularly and to make sanitisers readily available for all to use.
Private car ownership will almost certainly be the chosen method of transport for many and car club cars and hire cars will need to look at the service they deliver for their users' peace of mind. Disabled people requiring manual handling such as into taxis and onto aircraft will be incredibly wary and for many the emotional challenges will last long after the physical challenge has receded.
My hope is that people will be more aware of personal hygiene and will take responsibility for their own actions and this will of course lead to more use of services and ultimately we will return to a new level of normal where we are all being a little more mindful about how we consume and interact with public services.
TS: Both of your apps, "Welcome" and "Button" are highly relevant during COVID-19, particularly "Button", can you tell us a bit more about them?
GN: It's a great question although Welcome has been stealing the limelight for reasons I will mention later.  You are right though, our Button system or indeed any contactless button press is going to receive a lot of interest for obvious reasons. The growing importance of this type of tech innovation has not been lost on us.  From pedestrian crossings, to doors, to lifts; across all environments we have a tech solution that can reduce the amount of contact contamination that we currently risk. Every building which has a separate disability access door has the potential, using our hardware, of becoming a universal access door.  For us, as a company that places massive social importance on Universal Design, this is a great opportunity for society to take a leap forward in how it designs with everyone in mind whilst at the same time addressing a very real problem.
Welcome is a proximity aware customer support system which we launched in 2018.  A disabled visitor's phone triggers a notification to a store or venue they are visiting and provides the staff with training and awareness on how to interact when they arrive.  Anyone who has seen the queues at supermarkets will understand how challenging it must be for elderly and disabled people in these situations let alone when they get inside the store and need help.   This service was already installed across multiple sectors with an increasing number of partners including RBS, NatWest, House Of Fraser, DoubleTree Hilton, Diageo, NorthLink Ferries, Edinburgh Airport and many others including its launch at two NHS hospitals.
Both Button and Welcome services are the first of their kind in the world with more potential than it is easy to get your head around, indeed, every day someone says, "have you thought of this use case?" or "You should talk to… they would love this!"
The greatest challenge we have currently is deciding where to place our resources to a) help the most people through and out of the other side of this current crisis and of course b) realising the potential growth of Neatebox.
TS: It's been great to chat to you today Gavin, thanks a lot for taking the time to share how Neatebox has been responding to COVID-19. Would you like to let people know how they can get in touch with you if they're interested in finding out more about Neatebox?
 Of course, we would love to hear from any business or organisation that would like to improve access for disabled people as we transition into a post COVID19 world and people can contact us through our website neatebox.com or via [email protected] but we would very much like to hear from people who are keen to invest either their time or money or both to help us scale and reach our full potential.
I will close by thanking all of you involved in any of our societies supporting services. You know who you are as you are risking your wellbeing every day you go out and keep our communities alive. I can only hope that after the passing of this crisis you are not forgotten and that your efforts are reflected through job security and with luck increasing financial recognition of the part you play in our society every day.
——————————————————————————————————————————————————————
Are you a member of Technology Scotland that has been contributing to the COVID-19 response? Get in touch with us at [email protected] if you would like to be featured in this blog series