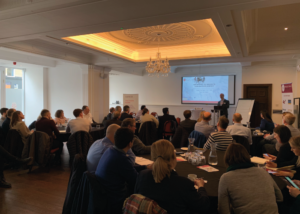 Product Design Scotland and the Knowledge Transfer Network partnered together to host "Navigating the design to manufacture journey" on Tuesday 10 March at Glasgow Trades Hall.
This event was designed in response to hearing from many of our partners the struggles and challenges that they face when working with clients to guide them through the design to manufacture journey. Bringing together innovators, product designers and manufacturers and partners, this interactive event provided a platform from which these struggles and challenges could be considered, discussed and solutions shared.
The brilliant lineup of speakers and panel members included;
– Victoria Hamilton, Director and Founder, VH Innovations (Recoil)
– Tristan Elliot, Business Development Director, i4 Product Design
– John Toal, Business Development Director, Tharsus
– Stuart Kelly, Technical Director, Systolic
– John Dignan, Dynamic EMS
All of the panel members were able to provide a different perspective on the design to manufacture journey, highlighting the variety of approaches that can be taken throughout this process. However, one key piece of advice was reiterated by all – involve your key partners (product designers, manufacturers, funding and business advice) in this journey as early as possible to enable you to understand the whole journey, from start to end.
If you didn't manage to make it along on the day, you can take a look at our speaker's presentations , panel session and highlights video below: