Photonics West 2019: Highlights from the SOA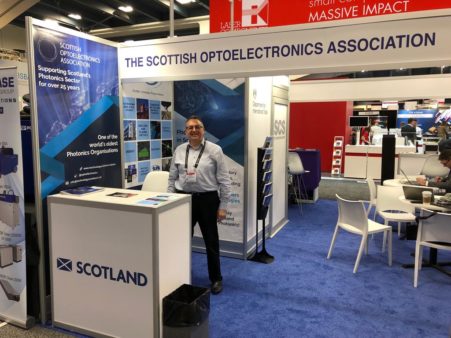 Every year Photonics West bring together some of the leading figures in the industry, with attendees and exhibitors getting an exclusive insight into the latest technologies, the chance to meet new business connections, and to catch up with old friends.
Since the SOA became a network of Technology Scotland in 2016, we have made it our mission to re-establish the SOA at Photonics West and be seen both in the main exhibition space and at cluster meetings and networking events. In 2019, we had the opportunity to share a booth with SOA member, SUPA, on the Scottish Pavilion. With over 1,300 exhibitors and 20,000 visitors, there were plenty of delegates to welcome and organisations to see.
Among a range of activities and meetings we were kindly hosted by the British Consul General, Andrew Whittaker, who indicated he is ready to use UK Government resources to support trade visits where there is opportunity to increase business for Scottish and UK companies or to encourage inward investment. We intend to follow up on the Consulate General's good will regarding future relevant events.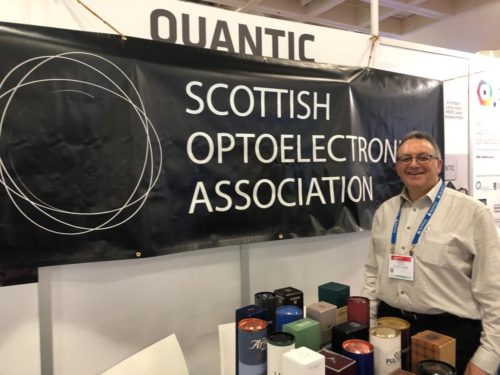 As part of our trip, we were keen to be active amongst other photonics clusters and in cluster meetings. Having the opportunity to meet with our international counterparts and discuss shared topics of interest not only boosts awareness of Scottish photonics capability, but also ensures we can work closely together for years to come. We participated for the first time in the Global Photonics Alliance (GPA), a truly global gathering of photonics cluster organisations, which highlighted that every country shares similar issues in terms of "share of mind" for photonics at government level. Following the gathering, we attended the SPIE Cluster Meeting, and were pleased to meet photonics organisations from North America, Asia and Europe.
Other highlights included attending the EPIC and German Photonics networking meetings, where we were able to expand our networking and support the M2 Quantum networking reception, something of particular importance given the EPIC AGM in Glasgow later this year. However, the highlight of the week was the SOA Whisky Tasting Reception. Following a crowd of over 300 people last year (where we were out of whisky within the first hour!), this year's event also attracted a large attendance of almost 400 people. Kindly supported by the DTI and hosted on the QuantIC booth, the reception greatly increased traffic to the Pavilion and has helped in re-establishing the SOA at Photonics West!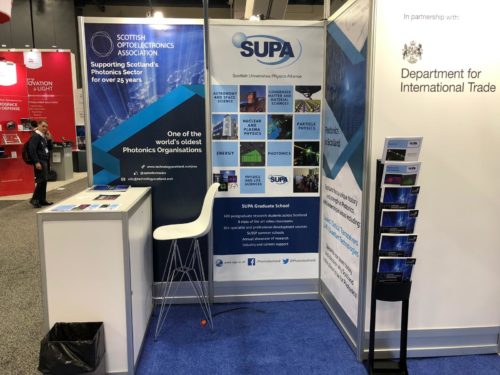 Above all, as with last year, attending Photonics West reiterates how crucial global photonics is to the world today. Ahead of Scottish Photonics Week in April 2019, including the SOA's landmark 25th anniversary and EPIC AGM, as well as a number of political uncertainties, now more than ever we must form long-lasting connections and continue to be at the cutting edge of innovation.