Have you ever wondered what could be achieved if the EU maintained photonics as a key funding priority in FP9?
Photonics21 has released a new vision paper "Europe's Age of Light" to sets out a new strategy for the future of European photonics. The paper, realised through the consultation with more than 1.700 companies and research organisations in the photonics community, highlights some of the benefits that the Photonics sector may generate by 2030, including:
instant diagnosis of major diseases
eradication of all road accidents
the creation of 1 million new jobs.
Photonics or light-based technologies could enable a future where driverless vehicles can eradicate road accidents, where advanced healthcare diagnotics allow instant detection of disease, and where industrial production will be revolutionized creating 1 million new jobs by 2030.
"The Photonics will do for the twenty first century what the electron did for the twentieth. We are already at the forefront of this technological revolution: harnessing the power of light to solve our greatest global challenges.
As light particles, or photons, replace electrons in many of our most important technologies, innovations in the pipeline aere improving healthcare, growing food, saving energy, reducing pollution, expanding connectivity, transforming manufacturing and ushering in a new era of mobility."
Aldo Kamper, Photonics21 President
The vision paper highlights how European leadership in photonics will deliver wide-ranging benefits by 2030, including: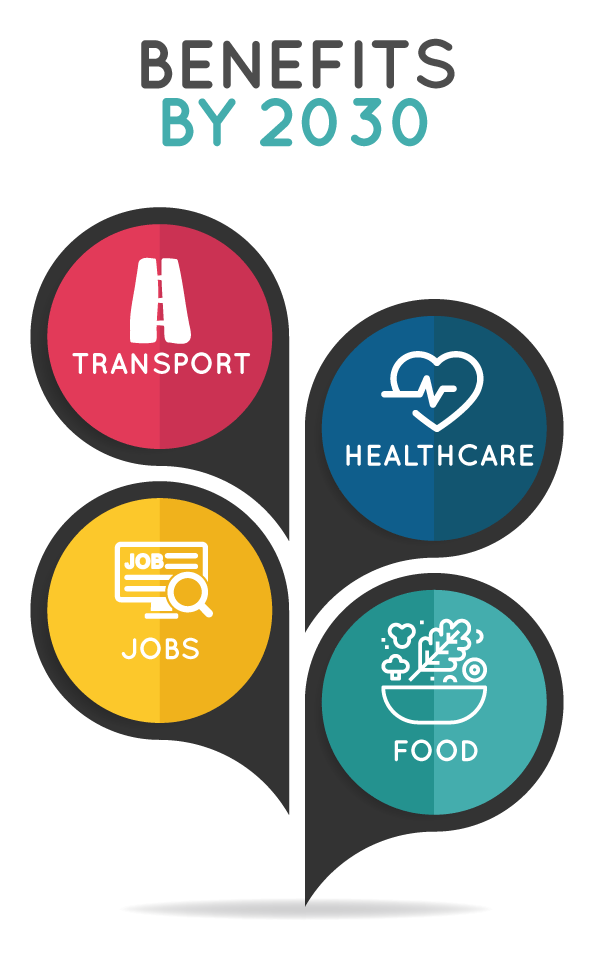 Transport – Photonics provides essential components, systems and production tools for all aspects of connected mobility, from driver assistance and traffic monitoring to photonics-based IT and telecommunications.
Health – Advanced diagnostics, pervasive monitoring and innovative e-health applications will be able to detect body signals, symptoms and diseases early on. Diagnosis and treatment will be delivered instantly at the point of care, thanks to the new science of "theranostics."
Jobs – Photonics technology, including lasers, sensors and 3D displays, will revolutionise industrial production and working environments, making manufacturing more innovative, cost-competitive and resource-efficient. A fully digital value chain from supplier to customer will give birth to new forms of collaboration and customisation, new services and new business models – all of which will strengthen Europe's industrial base and create up to 1 million new jobs.
Food – Photonics will help supply safe, nutritious and affordable food for all and establish a sustainable value chain from farm to fork. By using more precise sensors and measuring devices, farmers, food processors and ordinary consumers will be able to monitor and certify the safety, quality, content and even the origin of food – anytime and anywhere.
European Photonics Market
Finally, the paper outlines the potential fro Europe to increase its market share. With a share of 15.5% Europe is the world's second-biggest supplier of photonics after China. However, while its first competitor is focussing its R&D efforts on photovoltaics, displays, lighting and other commodity products, Europe is the centre of global photonics innovation today.
With over 10% of the sector's revenues spent on R&D and with European photonics clusters like Technology Scotland and the Scottish Optoelectronics Association linking companies with universities, research facilities and public-sector agencies across disciplines, industrial sectors and countries, the report by Photonics21 shows that the European photonics industry is committed to achieving its goals.
Read the full article >