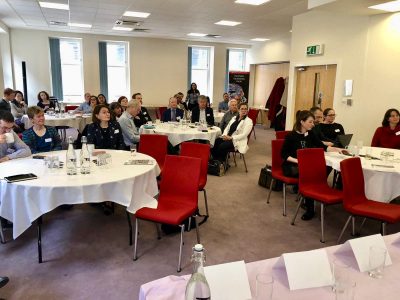 For over 125 years, Scotland has been renowned as one of the world's leading centres for optical engineering and photonic innovation. It is a major contributor to the Scottish economy, enjoying some £1billion in turnover per annum and employing over 6,000 people in high value added jobs.
However, this growth doesn't come without its challenges. Skills shortages in the sector are a major concern, and it is widely acknowledged that this is partially driven by a lack of diversity and gender equity. A 2017 report by SPIE highlighted this, stating that women currently represent a minority in the optics and photonics community. Further to that, the report found that median salaries are 37% higher overall for men, and that women's representation in the workplace declines over time (SPIE, 2017).
On 23 October in Glasgow, a collaborative event was held between Technology Scotland, the University of Glasgow, the KTN and Institute of Physics Scotland entitled 'Opening up Photonics'. On the day, over 30 senior figures from industry, academia and the public sector, as well as institute heads and policy leads, met to discuss these challenges and share thoughts on opportunities for improvement.
Technology Scotland, an SE-funded cluster management organisation for Scotland's Enabling Technology Sector, was one of the key players in bringing this event together, having heard repeated calls from its members to help address this topic.
The group first heard from Dr. Suzanne Doyle-Morris, a renowned researcher, author and entrepreneur. Suzanne is an expert in workplace gender balance issues, and presented primarily on the topic of conscious/unconscious bias, describing the main causes of the lack of gender diversity and some possible actions. It was especially noted that countering bias is an on-going process, not something that can be cured by diversity training alone.
Stephen Taylor, CEO of Technology Scotland, also elaborated on the recent SPIE survey results, putting these forth to the first panel session for discussion. The majority agreed that the lack of diversity is a problem shared by most physics-based industries, and it was noted that unlike the software sector, photonics is not easily suited to conversion courses from non-technical subjects. The decision to follow this particular path often has to be made very early in life, and potential physics graduates may sometimes be put off by bad experiences at schools or with careers advisors. If the opportunity is missed in the first instance it is often gone, and the challenges of maintaining the talent pool are even harder than usual.
The University of Glasgow shared more optimistic news: their current intake has been more diverse year-on-year, reaching a 40% female cohort for the 2018 year – although as of yet there is a lack of clear evidence as to why this has occurred! Suzanne Doyle-Morris suggested that this will be due to a self-reinforcing effect whereby efforts to increasing the numbers of females has presented a better looking environment to the next round of prospective entrants. A common metric for the tipping point here is 30% female intake, especially for Boards, whereby the situation increasingly looks after itself after that point.
Several panel sessions shared perspectives from those in the industry, and discussions explored potential actions for improvement, both with the current situation (measures for better attraction and retention) and future pipeline (starting at an early age, with science education aimed at pupils as young as three). Follow-up will be coordinated through the event partners.
It was great to see the industry recognising its current shortcomings, and making a focused effort to try and understand and resolve them. We are sure that the sector will provide greater diversity for future generations, ensuring that Scotland's photonics sector continues to grow and thrive.
SPIE report available to download here: http://spie.org/about-spie/advocacy/women-in-optics/women-in-optics-survey