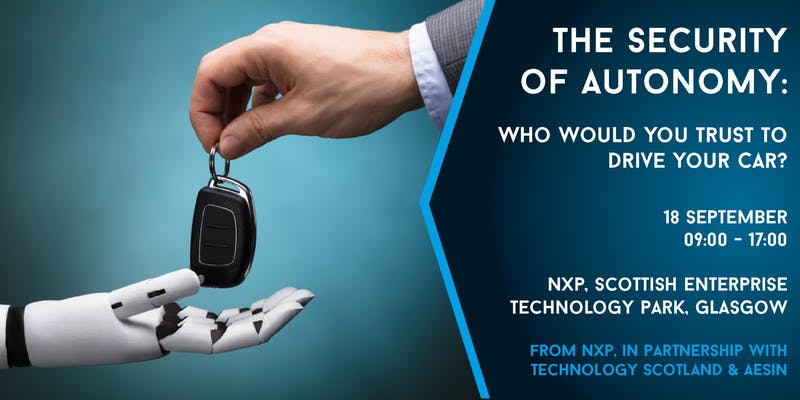 The Security of Autonomy: Who would you trust to drive your car?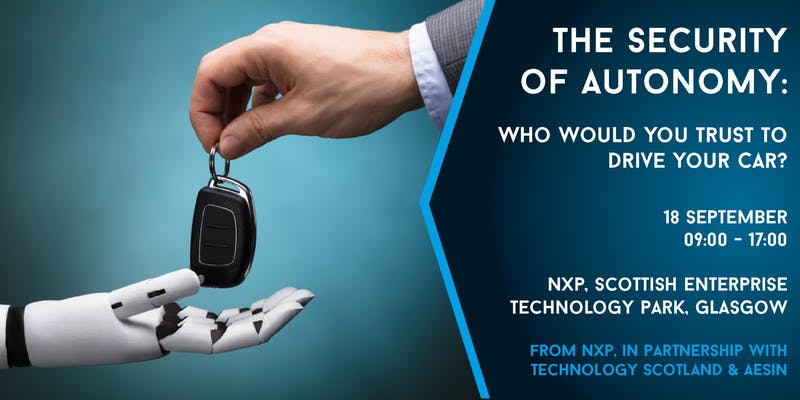 When: 18 September 2018
Where: NXP Laboratories, East Kilbride
A partnership between NXP, Technology Scotland and AESIN
About this Event
A networking event and discussion examining the opportunities and issues in the growing field of autonomy with industry leading experts.
Devices are increasingly connected to each other and the internet, with many serving as a platform for the delivery of a vast number of services. Recent research suggests that the economic impact of connected autonomous vehicles alone could be worth £51 billion per year by 2030 (SMMT, 2017). However, with the timeline and technology roadmap unclear, this progress entails many security and ethical challenges that must be addressed.
With this in mind, NXP, in partnership with AESIN and Technology Scotland, is delighted to invite you to a unique one-day workshop in Glasgow. This forum will provide an opportunity for automotive and security engineers, policy makers, and researchers to offer their expert insight into the ongoing discussion of how best to tackle the evolving challenges that surround cyber security and other aspects of autonomy. With some of the UK's leading figures in this area presenting and attending, make sure to sign up, engage in the debate, and network with the experts!
Speakers:
Peter Davies, Technical Director, Thales e-Security
Dave Stewart, Founder/CEO, Critical Blue
More TBC