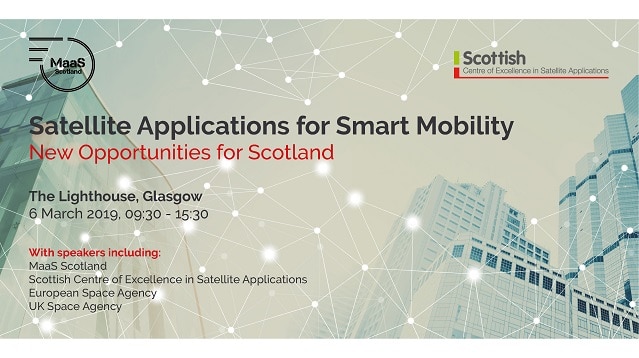 Satellite Applications for Smart Mobility: New Opportunities for Scotland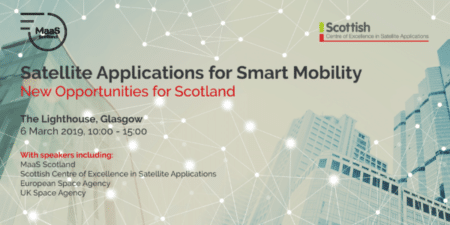 Satellite applications for Smart Mobility: New Opportunities for Scotland
When: 6 March 2019, 09:30 – 15:30
Where: Gallery 4, the Lighthouse, Mitchell St, Glasgow
Global Navigation Satellite Systems (GNSS) is the infrastructure that allows users with a compatible device to determine their position, velocity and time by processing signals from satellites. An overwhelming majority of smartphones now rely on GNSS for location-based services for apps as well as navigation. The emerging areas of augmented reality and autonomous vehicles are supported by GNSS, as well as insurance telematics black boxes, Road User Charging and ride-hailing services. The applications are extensive and increasingly attainable.
MaaS Scotland has teamed up with the Scottish Centre of Excellence in Satellite Applications (SoXSA) to introduce you to the opportunities afforded by satellite data to the navigation and transport sector. We aim to get you thinking about how challenges in Scotland might be addressed.
We will be joined by representatives from the European Space Agency (ESA)'s NAVISP programme, (Programme for Positioning Navigation and Timing: Innovation, Competitiveness and Support for Institutional Projects) and the UK Space Agency to give attendees a flavour of what funding is available, and how data from satellites could be used to support innovation in mobility and transport in Scotland.
This event will take place on 6th March 2019 at the iconic Lighthouse in Glasgow's city centre.
9.30am: Registration, tea and coffee
10.00am: Speakers including MaaS Scotland, SoXSA, ESA NAVISP and Andy Proctor, Technical Director (GNSS) at UK Space Agency
12.00pm: Challenge outline by MaaS Scotland member or Ally
12.30pm: Networking lunch
1.30pm: Roundtable sessions
3.30pm: Close
We look forward to welcoming you on 6th March!