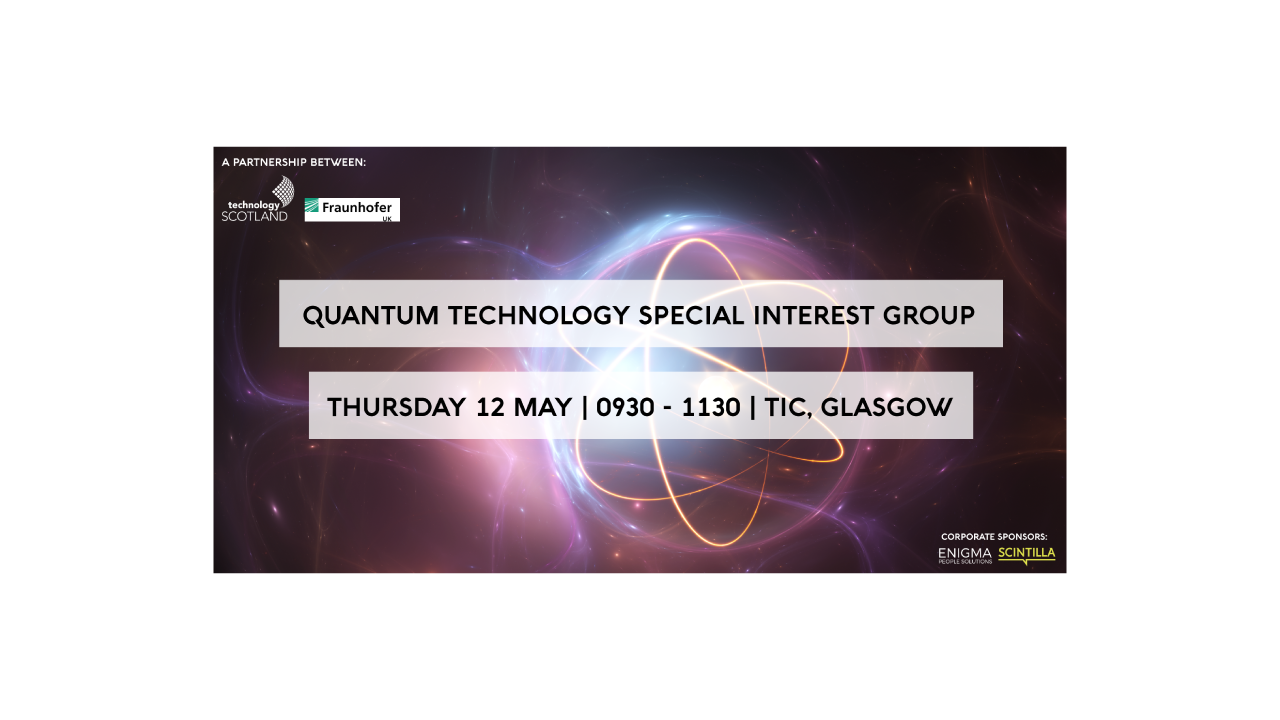 Quantum Technology Special Interest Group
*INVITE ONLY* The 1st meeting of Technology Scotland's new Quantum Technology Special Interest Group
About this event
Background
Solutions to some of the world's biggest challenges are being unlocked through advances in quantum technology, providing innovative products across a number of global markets such as healthcare, energy, communications and mobility. Integration of these technologies, into viable, efficient and commercially attractive products is key.
The development of quantum technologies relies heavily on photonics, with some estimates suggesting that up to 80% of all quantum technology is dependent on lasers and advanced optics. Indeed, the implementation of quantum technologies, along with early product delivery, will be built on current photonics technologies and expertise readily available in Scotland.
As the representative association for the enabling technologies sector in Scotland, Technology Scotland, through the Photonics Scotland network, is keen to support the quantum technology sector in Scotland, recognising their critical importance to the integration of local, leading edge technologies into products that will provide solutions to local and international challenges.
With this in mind, and based on feedback from industrial and academic partners, Technology Scotland, in partnership with Fraunhofer UK, is launching a Special Interest Group (SIG) for companies operating in the quantum technology sector in Scotland, with particular emphasis on building an ecosystem for the community and ensuring Scotland's interest and needs are represented within the wider UK.
Objectives of this group
Technology Scotland's Quantum Technology Special Interest Group will have an overarching goal to create Scotland's vision for the quantum technology sector: what do we hope to achieve in the next 10 years and what do we need to have in place to ensure it happens? This will include addressing the skills gap within the sector.
It will support its members by providing a neutral platform where knowledge can be exchanged and collaboration, both locally and internationally, facilitated.
Technology Scotland's Quantum Technology SIG will represent the whole Scottish quantum technology sector, bringing a neutral, strong and clear voice to Scottish and UK Governments, and other relevant organisations both on home soil and further afield.
The group will have four initial primary objectives with others to be defined as the group develops:
• Be a unified voice for the sector, helping to ensure future Government policies within the sector are shaped in the way the sector requires.
• Develop Scotland's vision for quantum technology, ensuring that Scotland's capabilities in the field continue to be recognised on UK, European and global scales.
• Facilitate knowledge exchange through the creation of forums to support shared experience and collaboration. This will include formal events/meetings alongside case study development and targeted signposting.
• Address the skills gap within the sector, by working with relevant organisations to encourage upskilling and reskilling of staff and inspire the uptake of STEM subjects at schools, to develop a diverse and talented workforce for the future.
Proposed outline agenda for 1st Meeting
09:00 – 09:30 Coffee on arrival
09:30 – 11:30 Quantum Technology SIG Meeting
• Background for the group, proposed vision and aims – Alison McLeod, Technology Scotland
• Quantum technology landscape, other groups, exhibitions – Simon Andrews, Fraunhofer UK
• Current status, challenges and opportunities – Loyd McKnight, Fraunhofer UK
• Roundtable discussion to determine what direction the group would like to see the QT SIG progress, for example:
o how do we coordinate the Scottish QT cluster so best represented and recognised (e.g. by UK Quantum)?
o what gaps are in the Scottish supply chain?
o is developing a vision for the QT sector in Scotland of value?
o what sort of events would be valuable for knowledge exchange?
o developing additional skills routes (graduate apprenticeships, etc.)
o what should SIG be seeking from Scottish and UK Governments?
o future collaborative research: do we understand why we have been so successful to date and how do we ensure we preserve this success?
11:30 – 12:00 Coffee and networking