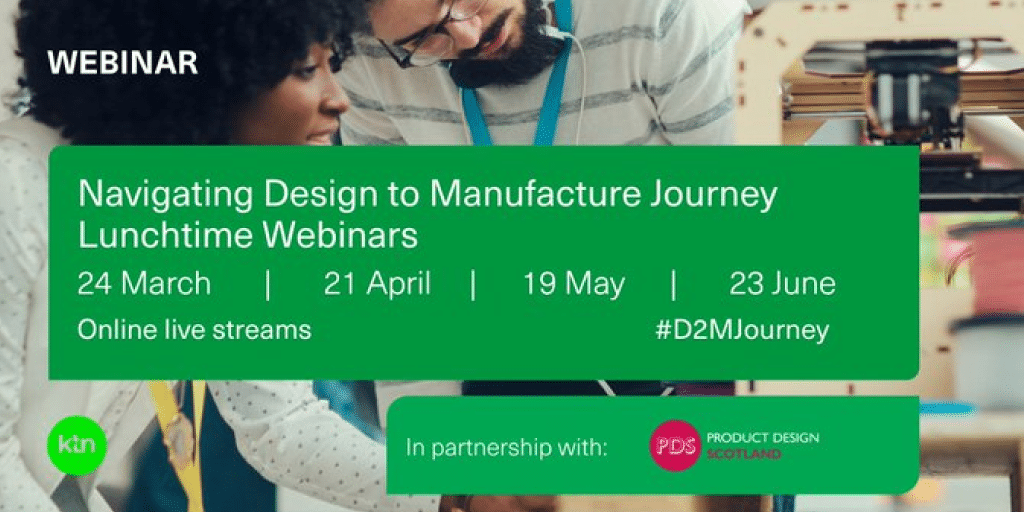 Navigating the Design to Manufacture Journey: Adventure Stories
Navigating from design to manufacture can be challenging. Translating an idea from a design into manufactured reality requires skill, expertise and tenacity! Through insights and support, the Navigating the Design to Manufacture Journey Programme supports innovators as they look to develop and commercialise physical products that require manufacturing.
Following on from the hugely successful first Navigating the Design to Manufacture series, a partnership with KTN, and the launch of KTN's Guidebook (the result of extensive collaborative working), we are delighted to be back with a second series focusing on stories of those who have successfully navigated the challenging journey from design to manufacture.
Learning from our peers who have been there and done it is the best type of support an innovator can access.  This series of events will bring those insights from different innovators who have traversed the perilous landscape: sharing tales of woe and glorious moments of success with a view to providing you with insights and tips for navigating the journey yourself.
If you are an innovator, product/service designer and/or manufacturer join us for one webinar or register for all four.  You will have the opportunity to meet different individuals from across the wider landscape who can help you on your journey from design to manufacture.
Navigating the Design to Manufacture Journey: Adventure Stories March
24th March : 1200-1330
We will hear from three speakers from innovative manufacturing equipment, wearables and medical devices; start-up expert Angela Spang, Founder and Owner, June Medical; innovation and collaborative working specialist Paul Holt, Founder and Managing Director, Photocentric; and technology expert Phil Kunovski, Chief Technology Officer, KYMIRA.
Follow on webinar dates 
21st April 1200-1330
The first of our speakers at this event is entrepreneur Gemma Pearce, MD of Loopwheels who will describe her journey from product development through to commercialisation. Other speakers will be announced shortly.
19th May 1200-1330
For this webinar we will be joined by lean start-up champion Sam Cockerill from Libertine FPE describing his approach to prototyping and learning from customer insight.  Other speakers for this webinar will be announced shortly.
23rd June 1200-1330
Speakers announced shortly.