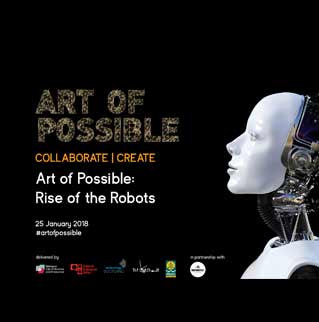 Art of Possible: Rise of the Robots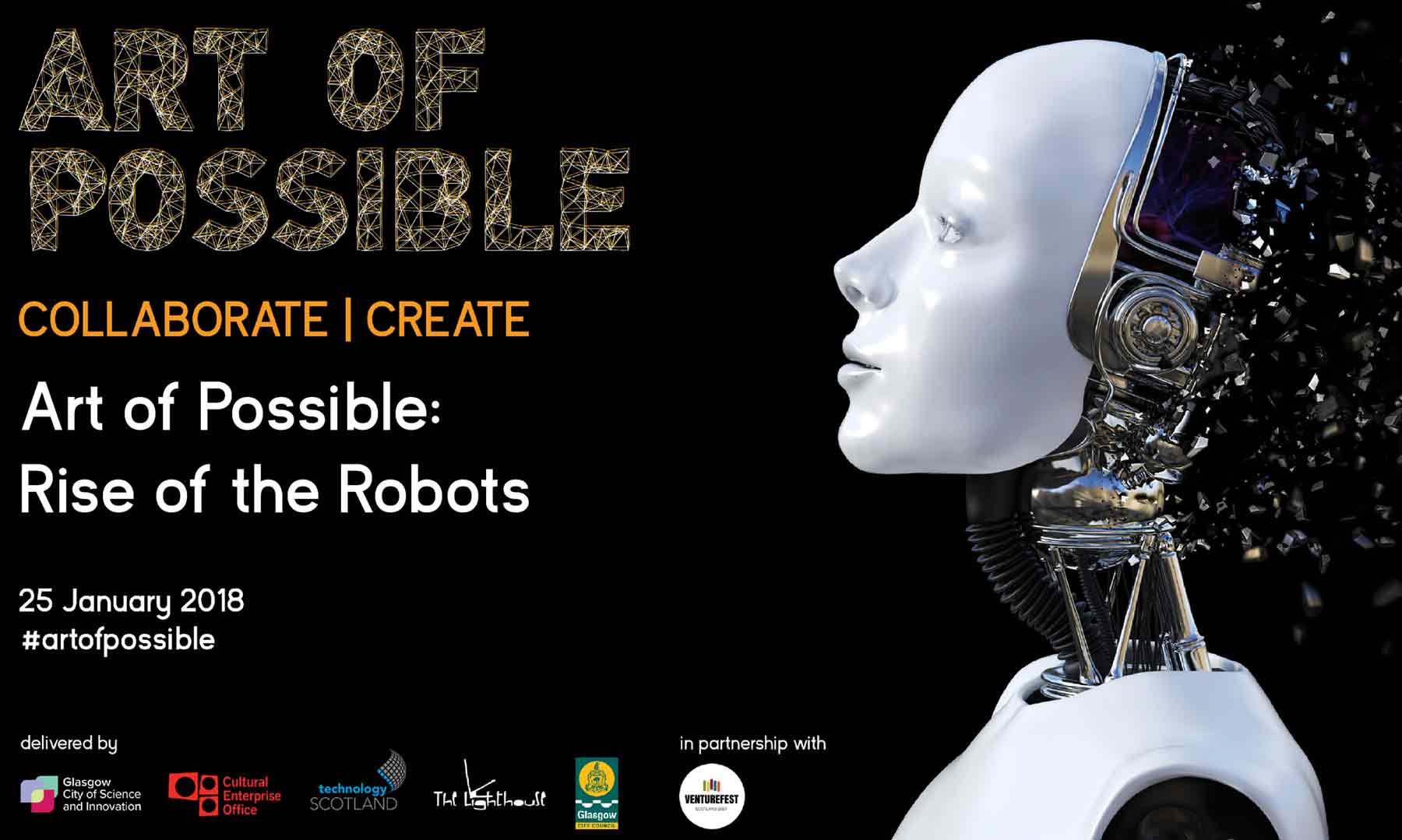 Art of Possible: Rise of the Robots
Date: Thursday 25th January 2018
Time: 12:30 arrival for 13:00 start (attendees are encouraged to network over drinks and bites after the event)
Venue: The Lighthouse, Gallery 4, 56 Mitchell Street, Glasgow, G1 3LX
Tickets: Free
REGISTER
(due to high demand tickets are limited to 2 per organisation and non-attendees (who don't give 24-hours notice) will be invoiced a £10 fee following the event).
Calling all Design Thinkers, Technological Innovators, Artists, Scientists and Civic Entrepreneurs!
If you want to co-create to innovate the future – this workshop is for you. Are you interested in how next generation technologies can help us tackle major societal challenges and live better lives?
So are we, and Glasgow is great place to start.
The Art of Possible is a movement bringing together Scotland's creatives, policy-makers and STEM professionals to consider civic uses for the regions' world-leading emerging and enabling (E&E) technologies. Our tech focus for our January 2018 event will be robotics and AI.
There are some ground-breaking innovators and knowledge experts in Scotland driving our robotics and AI capabilities, including our keynote speakers Dr Rachael Jack, Lecturer in Psychology at the Institute of Neuroscience and Psychology and School of Psychology, University of Glasgow and Dr Frank Broz, Assistant Professor and Research Lead of the Robotics Lab at Heriot Watt University.
As a group, we will redefine the "Art of Possible" by broadening of our understanding and perspectives on enabling robotics and AI in the real-world; sharing resources, sparking creative ideas and supporting creative collaborations to innovate for society.
ON THE DAY
I. BROADCAST: TECH INTRO | Info Session, Speaker Presentations and Live Demos
(led by Dr Susie Mitchell, Glasgow City of Science and Innovation)
Robotics and AI are set to transform our daily lives. Dr. Rachael Jack will explore the ever-evolving concepts and technologies that are powering the social robotics revolution–which will impact across a range of sectors from retail, arts and entertainment and communications, to education and social care.
Dr. Jack's research focuses on exploring how we can replicate facial expressions artificially in order to design social robots of the future. Rachael gained her PhD and at the University of Glasgow and is now a Lecturer at the Institute of Neuroscience and Psychology and School of Psychology at the University of Glasgow.
We will then hear from Dr Frank Broz, Assistant Professor and Research Lead of the Robotics Lab – Heriot Watt University. Dr Broz's primary research interests are in human-robot interaction, artificial intelligence, planning, machine learning, social interaction, and nonverbal behavior.
II. RAPID 'STEAMS' CHALLENGE WORKSHOP
In an interactive workshop you will explore possible applications of the technology through a condensed design innovation methodology. Dr Duncan Booker, Resilience lead for Glasgow City Council will set down the challenge–the future of work. The industrial revolution saw machine power triumph over muscle power; with super-human robots on the horizon what will happen to our job prospects when robots and algorithms surpass what our brains can do? You will explore the tech and our social challenge and evaluate and ideate, prototype and communicate your ideas in a three-minute pitch to the whole group. Prizes will be awarded to the best ideas!
III. WRAP UP | Reflections and Discussion
IV. BEER, WINE AND BITES | Get Social
We look forward to seeing you there. We always seek a strong STEAMS (Science, Tech, Engineering, Art & Design, Maths, Social Sciences) cross-sectoral presence to co-create with impact – so share this event with friends and colleagues!
Places are limited; please contact [email protected] with any questions
What previous Art of Possible attendees said:
"A stimulating & enjoyable experience both learning from experts, and sharing & developing ideas amongst fellow participants"
"Great to see the innovation community in Scotland coming together to try to encourage growth in the sector. Great team!"
"A most worthwhile & enjoyable event."
REGISTER