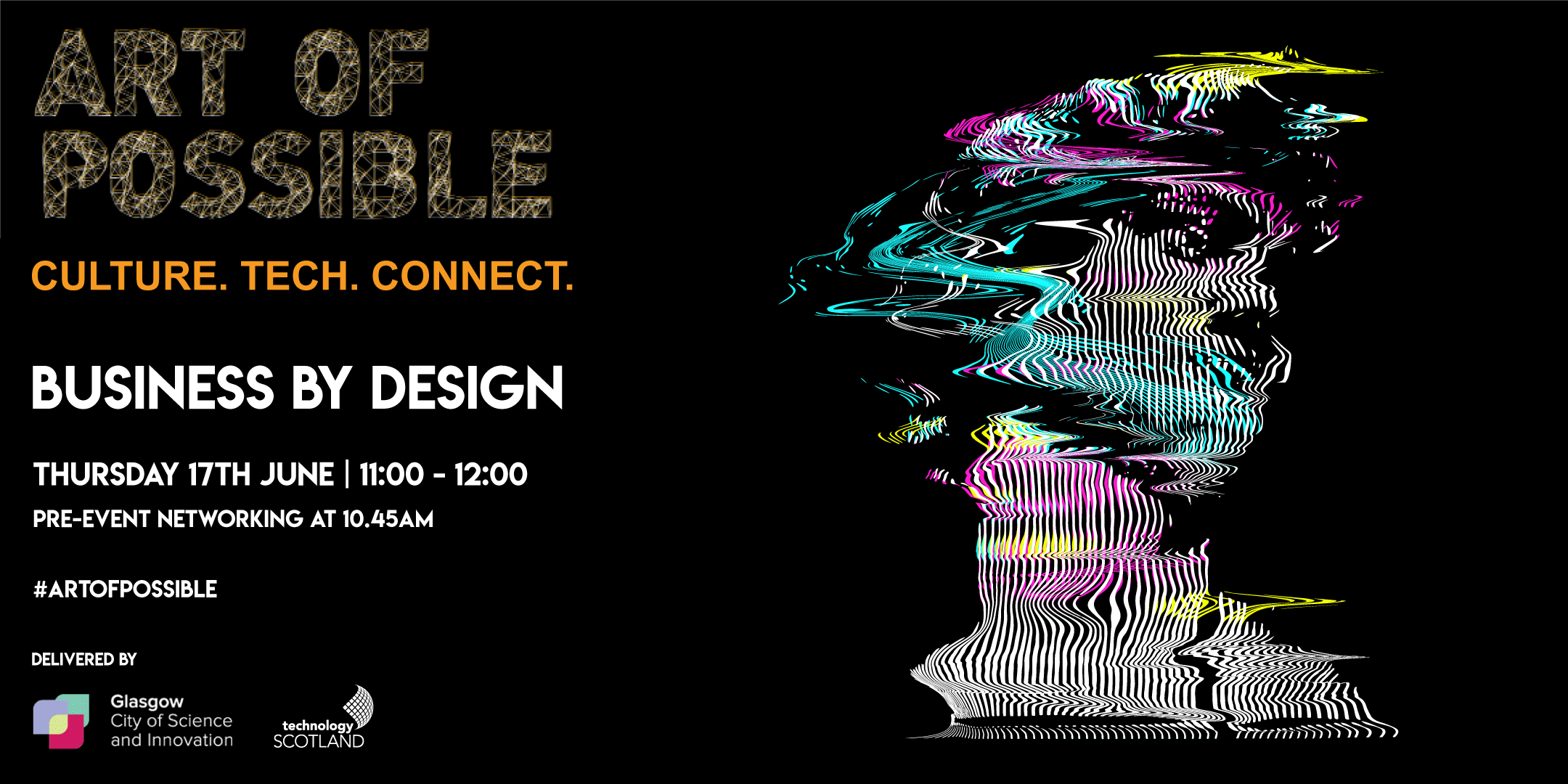 Art of Possible: Business by Design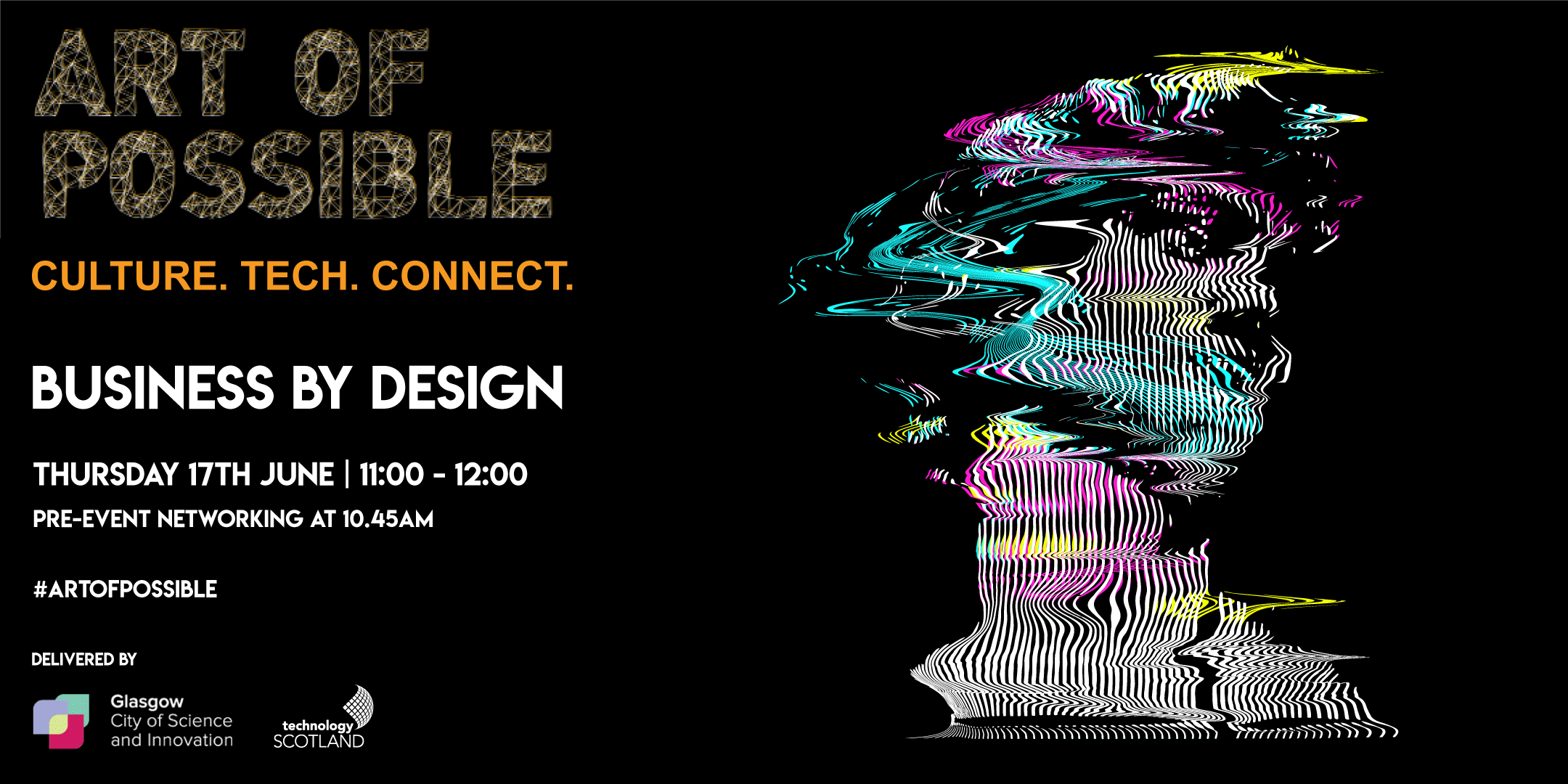 Business by Design | Thursday June 17 | 1100 – 1200
The award-winning Art of Possible is back! For our first in series for 2021 we are delighted to bring you a panel of inspiring creative leaders from across the UK, who are co-designing new solutions to challenges faced in business and society. With a range of experience – from the arts and tech to industry and academia – our experts will share insights and learnings on how they've connected diverse minds, disciplines and technologies to open up a world of new opportunities.
#ArtOfPossible
MEET THE SPEAKERS:
Sarah Ellis – Director of Digital Development, the Royal Shakespeare Company / Executive Producer, Dream
Sarah is an award-winning producer whose current role focusses on exploring new artistic initiatives and partnerships at the RSC. Their latest partnership, Dream, is the Audience of the Future Live Performance Demonstrator funded by Innovate UK – a consortium consisting of arts organisations, research partners and technology companies to explore the future of performances and real-time immersive experiences.
Previously listed in the top 100 most influential people working in Gaming and Technology by The Hospital Club and Guardian Culture Professionals, Sarah is now Chair of digital agency, The Space, established by Arts Council England and the BBC to help promote digital engagement across the arts.
—————————————————————————–
Lauren Dyer – Director of Strategic Partnerships, Dimension Studio
Lauren is responsible for long-term creative and strategic partnerships with brands, agencies and industry bodies working to drive forward the development and adoption of volumetric, mixed reality and real-time technologies into different sectors. This includes working with clients such as Balenciaga and Eurosport to use mixed reality technology and create new virtual products.
With a resume including The Mill, MediaMonks and Stink Studios, Lauren has worked on some of the world's first interactive films and immersive social content, producing tailor made projects such as Facebook, Instagram and Snapchat. Lauren is an active mentor and judge, part of the BIMA Interactive Technologies Council, and has spoken at conferences and events from Advertising Week Europe, Digital Shoreditch and D&AD. In 2020, Lauren was named a BIMA100 Tech Trailblazer and a Pitch Magazine Superwoman.
—————————————————————————–
Verena Henn – Head of Research & Innovation, isoLABS 
Verena and her team at isoLABS – the R&D arm of award-winning digital design studio ISO – explore the creative application of immersive and interactive technologies and how they can shape new audience behaviours.  Verena originally joined ISO via a Knowledge Transfer Partnership with the University of the West of Scotland with the objective to introduce a research-led philosophy that can translate into tangible commercial returns and strategic change within the studio. Verena's work now includes creating proof of concept demos and prototypes to illustrate new opportunities or to de-risk concepts which are dependent on emergent technologies.
Prior to her posting at ISO, Verena worked as a creative technologist in Germany and Hong Kong and has extensive experience in developing interactive installations for events, trade shows and permanent exhibitions.
—————————————————————————–
Professor Nick Higgins – Director of the Creative Media Academy, University of the West of Scotland (UWS)
Nick is an award-winning filmmaker, academic and curator. He is the founder and programme leader of the Masters Filmmaking degree at UWS and lead academic on UWS Immersive, an interdisciplinary research cluster on Virtual Reality.
His films have been broadcast across numerous territories and continue to screen at film festivals internationally. Over the last couple of years Nick has also produced several interactive documentaries on the uws.io web platform and in 2017 he directed and co-produced his first 360 Virtual Reality documentary, The Circuit. Since then Nick has co-curated the Virtual Reality programme at the Glasgow Short Film Festival (2017 & 2019), hosted three research symposiums on XR and led on a 2-year Arts & Humanities Research Council funded Knowledge Transfer Partnership (KTP) with the award-winning ISO digital design studio – which Innovate UK commended as outstanding in 2021.
Twitter | UWS Media Academy Twitter | Website
—————————————————————————–
Chaired by:
Caroline Parkinson – Sector Engagement Manager for the Creative Industries and Director of Creative, the Edinburgh Futures Institute
Having previously developed the sector plan and white paper for the creative industries for the Data Driven Innovation Programme within the University of Edinburgh, Caroline is now Sector Engagement Manager for the Creative Industries and Director of Creative for the Edinburgh Futures Institute. Prior to this from 2014-2018 she provided consultancy in the creative industries specialising in business development, innovation and skills, latterly completing a 2-year contract to stimulate innovation in creative industries with Interface. From 2010-2014 she was Director of Film, TV, Music, Creative Industries, Skills & Innovation for the newly formed Creative Scotland, and prior to that from 2005 to 2010 she was Director, Scotland & Northern Ireland for the new sector skills association, Creative & Cultural Skills.
Caroline serves on the Board of Architecture & Design Scotland, and of the Scottish Music Industry Association, and for four years has served in a voluntary capacity as Strategic Director and Presenter of the MOVE Summit, Scotland's Animation and VFX Gathering.
—————————————————————————–
Format & Schedule:
The Art of Possible is all about sharing ideas, community building and sparking new connections – so please join us at 10.45am to meet your fellow attendees in our lightning chat sessions. This'll be a friendly and informal way to say hello and fuel discussions ahead of the main event.
Timings:
10.45am – small discussion groups (10mins)
11am – panel discussion with audience Q&A (60mins)
12 noon – close
———————————————————————————————————————————————————————————————-
Now in its 5th year, the award-winning Art of Possible series brings together an eclectic community of innovators, creatives, academics, policy experts and entrepreneurs to explore how unexpected tech collaborations can bring about new ideas and innovations to tackle challenges we are facing in industry and society.
In the 2021 series we will bring you inspirational SME stories of digital transformation (from Scotland and beyond) as a propelling force with a focus on the trinity of the right tech, collaborative people power, and business practices impacting productivity, people and planet.
The Art of Possible is a partnership between Glasgow City of Science & Innovation and Technology Scotland. It is an official primer series for Scotland's national innovation event, CAN DO Innovation Summit.
Stay up to date via LinkedIn, Twitter and sign up to our newsletter on our website here.
—
Are you interested in speaking at a future Art of Possible? Call out for speakers now live! Details on how you can be part of the 2021 programme here.