Art of Possible: Future of Space Data
March 27 @ 1:00 pm

-

5:00 pm

FREE
Event Navigation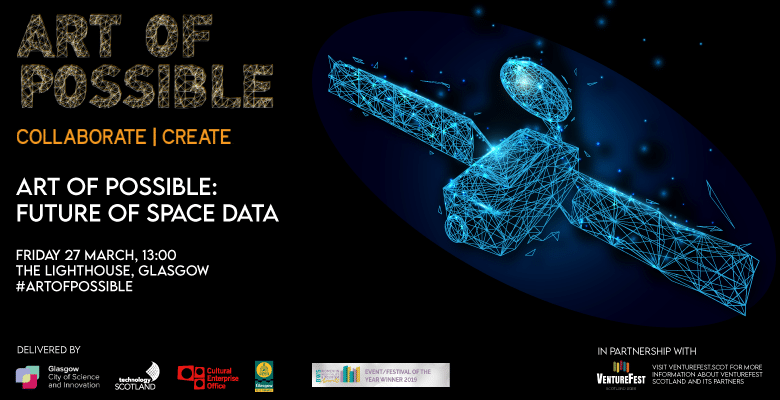 The Art of Possible programme is delivered by Glasgow City of Science & Innovation, Technology Scotland, Cultural Enterprise Office and Glasgow City Council, in partnership with VentureFest Scotland.
Date: Friday 27th March 2020
Time: 13:00 arrival for 13:30 start
Please note: Lunch is not provided but attendees are encouraged to network over drinks and light bites after the event!
Venue: Gallery 4, the Lighthouse, 11 Mitchell Lane, Glasgow, G1 3NU
Calling all Design Thinkers, Creatives, Technological Innovators, Scientists and Civic Entrepreneurs!
The award winning event series Art of Possible is back with a new series of inspirational events & workshops that bring together Scotland's creatives, policy-makers and STEM professionals to consider challenge-based applications for the regions' world-leading emerging and enabling (E&E) technologies.
Could space data be doing more for you? 'The Future of Space Data' will explore how this emerging technology, combined with the right business understanding, human creativity and insight, could result in major opportunities to help solve some of our most important economic and societal challenges. Our next event in the Award-winning Art of possible series will feature a range of experts who will explore the adoption of space data technologies across a range of disciplines.
At our first event of 2020, we will hear from experts who will explore the adoption of space data across a range of disciplines – from waste management and land monitoring to planning outdoor pursuits.
We will also discuss the key questions that will enable society to realise the full potential of this technology.
At 'The Future of Space Data' we will hear from a variety of leaders on how industry must adapt, open the doors for cross-sector collaboration, and harness the power of disruptive technologies for the benefit of business and society. In the process, the event will introduce you to a group of ground-breaking and inspirational creators, innovators and knowledge experts in Scotland, working to drive the diffusion of disruptive technologies across a range of sectors.
PANELLISTS
Steve Owens is a founder of Huli – a company that uses space data to help create the best route for a range of outdoor pursuits. Steve will talk about how Huli is disrupting the e-fitness market – helping cyclists, runners and hikers easily create routes that perfectly meet their needs, anywhere in the World.
_________________________________________________________________________________________________
Sarah Burns is the Centre Manager for the Scottish Centre of Excellence in Satellite Applications (SoXSA). SoXSA's mission is to facilitate collaboration between academia, industry and public sector with a focus on connecting the space sector in Scotland with other sectors and industries. Sarah joins us to talk about the support available for innovation-ready SMEs to innovate with impact, with a special focus on how the agency has supported companies using space data to grow, scale and succeed.
__________________________________________________________________________________________________
Michael Groves is a geographer with a PhD in aerial and satellite earth observation and is founder of Topolytics – a live data platform that maps the generation, movement and fate of industrial and commercial waste. Mike will talk about how Topolytics is using new space technology to enable waste producers and recycling companies to achieve better commercial, environmental and investment outcomes.
______________________________________________________________________________________________
Art of Possible is about connecting our diverse innovation community. We want to achieve a strong cross-sectoral presence (Science, Tech, Engineering, Art & Design, Maths, Social Sciences) – so please share this event with colleagues across all sectors!
ON THE DAY (Please note: the agenda sequence may be subject to change)
I. BROADCAST: TECH CASE STUDIES | Panel Session (Chaired by Rachael Brown, CEO of Cultural Enterprise Office)
II. STRUCTURED Q&A | Workshop (Supported by Panellists). Delving deeper on successful models for socially-driven innovation including workplace culture and values, mind-set, multi-sector co-innovation and funding/investment.
III. BEER, WINE AND BITES | Get social!
______________________________________________________________________________________________
AGENDA
13:00 – 13:30: Arrival, networking, light refreshments
13:30: Welcome, Rachael Brown, CEO of Cultural Enterprise Office
13:40: Meet the Panellists: pitches, panel discussion and questions
15:00 – 15:10: Comfort break
15:10 – 15:45: Creative Workshop (supported by Panellists)
15:45 – 16:15: Feedback session and discussion
16:15: Get social: beer, wine and bites
We look forward to seeing you there!
What previous Art of Possible attendees said:
"A stimulating & enjoyable experience both learning from experts, and sharing & developing ideas amongst fellow participants"
"Great to see the innovation community in Scotland coming together to try to encourage growth in the sector. Great team!"
"A most worthwhile & enjoyable event."
Art of Possible is an official Feeder event of VentureFest (www.venturefest.scot) Scotland's annual festival of discovery and innovation.