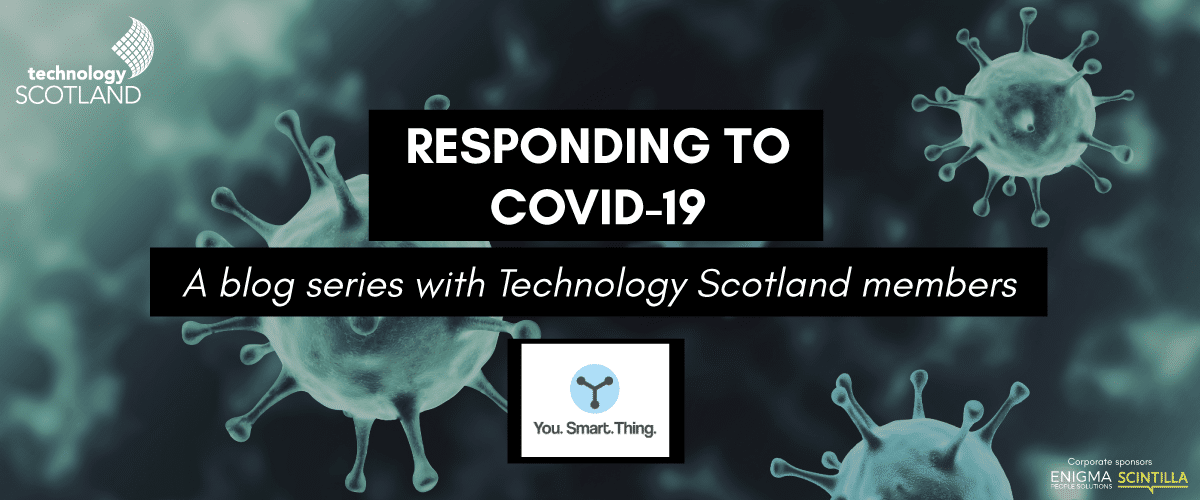 As the situation regarding COVID-19 continues to develop, some of our Technology Scotland members have been able to respond to the calls for assistance we have been seeing across Scotland, and the UK. These responses have taken a variety of forms, from tailoring pre-existing products to provide support in these unprecedented times to innovating business procedures and practices to provide more relevant and efficient services.
We're proud that those of our members who have been able to provide support, have offered their support in such unprecedented and uncertain times.
As a result, we'll be bringing you a brand new, weekly blog series in which we'll be talking to these members, finding out what they've been doing and understanding how they have been responding to COVID-19.
This week, we're hearing from You. Smart. Thing.
———————————————————————————————————————————————————————————
TS: Hello, thanks for chatting with us today! First off, can you tell us a little bit about You. Smart. Thing?
YST: Hello, You. Smart. Thing. is a cloud-based travel demand management platform for destination owners that need to manage people-flow and visitor experience. By embedding the You. Smart. Thing. Travel Assistant into existing customer touchpoints organisations can offer personalised travel advice to employees and visitors to their venues and events. The platform offers bespoke routing to offices or factories, health and education institutions, sports stadiums, theatres and festivals.
It is as easy to add to a website, social media post or mobile app as Google maps. Unlike Google, the Travel Assistant offers destination and transport operators valuable forecasting of visitors intended travel plans, alongside real-time messaging. It can be used to optimise operational resources, reduce costs and maximise the visitors' experience. Benefits include the ability to curate door-to-door journeys via the most appropriate route, transport modes and complimentary services to ensure people get the best possible value from their trip, based on their personal preferences and requirements.
TS: Due to the current and ongoing situation regarding COVID-19, MaaS has never been more relevant – both businesses and people have had to adapt and change –  which issues did you identify that you felt You. Smart. Thing. could provide a solution to?
You. Smart. Thing. noticed many issues as the situation regarding COVID-19 developed; travel advice for key workers is scarce and rapidly changing, and key workers and volunteers are fearful and anxious about their travel options. In addition, reserved parking areas may not be effectively communicated, 'Nightingale' hospitals and new pop-up test-centres don't feature on Google and as people are redeployed, untypical patterns of travel and reduced public transport timetables are not catered for, existing hospitals may have reconfigured access during the crisis. This current inadequacy in travel management will not help curtail the pandemic and so, You. Smart. Thing. worked to provide a solution.
TS: Can you tell us about the solution you're presenting; The Essential Travel Assistant?
YST: You. Smart. Thing. (YST) have adapted our existing web-based service to create 'Essential Travel Assistant' (ETA) for immediate use by regional and local authorities, plus facility managers. Initially guiding key workers to critical services such as hospitals and testing facilities, it can later be extended to managing social distancing and on-demand transport in the 'recovery' phase by incorporating pharmacies, schools, job centres, etc. This approach will enable the managed re-introduction of services, care-workers and volunteers to regular patterns of travel whilst maintaining critical observation of travel patterns and their impact on the continued suppression of Covid-19.
ETA utilises our configurable routing technology allowing the inclusion of bespoke 'access points' for regional hospitals, test centres, pop-up and re-purposed care facilities and allocated parking areas for care workers. Administration of access points is via the ETA service-provider dashboard that will be managed by our team in collaboration with public-sector licensors.
ETA can be easily embedded on local authority and healthcare travel advice websites and sent to care workers via a simple web-link in emails, SMS or social media. It's as easy as embedding a YouTube video on a webpage or posting on social media. As a cloud-based service there is no need for any aspect of ETA to sit on local authority networks or infrastructure.
The system offers users a free personalised travel plan (via email or SMS) detailing routes, modes and journey steps that will help minimise key workers social contact during transit. It allows them to add travel preferences and opt-in to free alerts for transport network events that may affect their journey, e.g. bus and rail timetable changes, road diversions.
TS: As the situation around COVID-19 slowly starts to return to a new form of normality, how you do think things will change throughout the MaaS landscape as this happens, and beyond COVID-19?
YST: The cultural sector, including festivals, sports events and day trips has been decimated by the Coronavirus pandemic. As we turn our minds to rebuilding the cultural sector, we need more creative and engaging ways of managing social distancing and ensuring public safety.
As frustrated citizens wrestle with the resulting social depression of the Coronavirus, gathering ad-hoc to gain interaction and out-of-home entertainment, best-practice in respect of social distancing is threatened. The pandemic has caused an acute contraction to the travel, tourism and hospitality sectors which prior to Covid-19 attracted £42bn in ticket sales, £10bn in public transport fares and £142Bn in overall tourism to the UK economy. Mobility-as-a-Service platforms will play a key role engineering the new 'normal' for organisations in the cultural sectors. YST believe enhanced bespoke navigation and demand-driven travel services are key to the recovery of a buoyant post-lockdown cultural landscape.
There was no business continuity plan for the Coronavirus outbreak, but recovery of the travel, tourism and hospitality sectors, with strategically managed social distancing built in en-route as well as in-situ, is business critical if we are to regain our economic welfare and social freedom.
Are you a member of Technology Scotland that has been contributing to the COVID-19 response? Get in touch with us at [email protected] if you would like to be featured in this blog series.