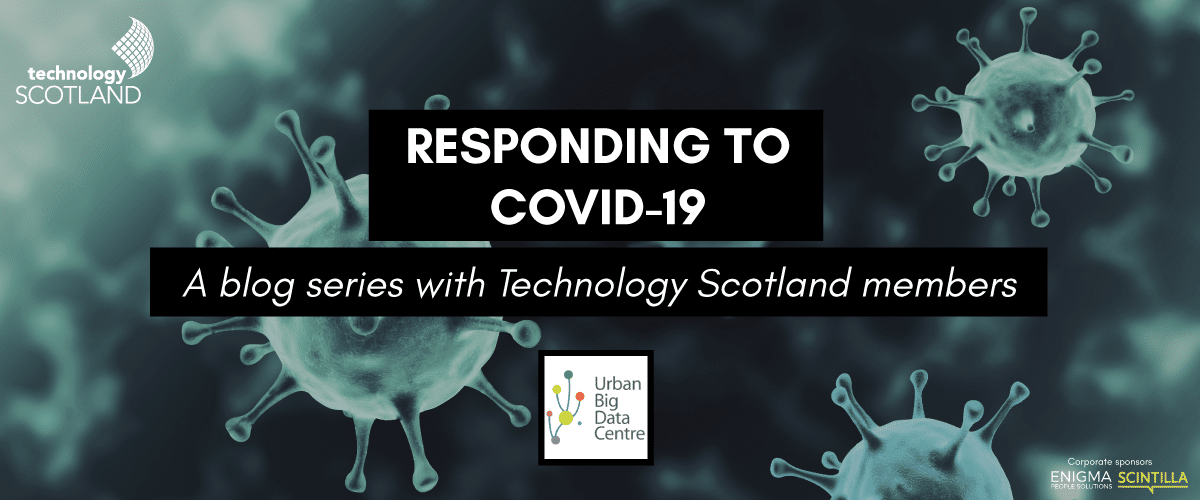 As the situation regarding COVID-19 continues to develop, some of our Technology Scotland members have been able to respond to the calls for assistance we have been seeing across Scotland, and the UK. These responses have taken a variety of forms, from tailoring pre-existing products to provide support in these unprecedented times to innovating business procedures and practices to provide more relevant and efficient services.
We're proud that those of our members who have been able to provide support, have offered their support in such unprecedented and uncertain times.
This week, we're talking to Urban Big Data Centre.
——————————————————————————————————————————-
Hello, thanks for chatting with us today! Firstly, can you tell us a little bit about Urban Big Data Centre (UBDC) and what you do there?
UBDC promotes the use of big data and innovative research methods to shed light on social, economic and environmental well-being in cities, and to support more informed policy making. We do this as a research centre working in areas including transport and infrastructure, housing and neighbourhoods, and education and skills. We also operate a national data service, helping other researchers access these new forms of data. We are funded by the Economic and Social Research Council (ESRC) and the University of Glasgow, and we have a multi-disciplinary team of around 30 urban social scientists and data scientists.
How did UBDC get involved with contributing to the calls for assistance during COVID-19?
From the beginning, the COVID-19 crisis has shown the value of data. Initially, it was health records to track the spread of the virus and then it was evidence of whether people were conforming with lockdown restrictions. We've contributed here through analysis of various data sources which shed light on mobility patterns, for example.
As the discussion began to turn to the challenges of managing the recovery, however, it was clear there was going to be a need for much broader intelligence on current conditions in our towns and cities – on mobility levels, but also economic activity, social problems and environmental conditions. Most official statistics appear with a lag of many months, even years but policy makers were calling out for near-real-time data, current to the day or week, especially over the next few months. The kinds of data that we work with have great potential here: data from sensors like CCTV systems or mobile phones, from business or administrative systems, or from apps.
The recent weeks have therefore been extremely busy for UBDC. We've been talking with a wide range of partners in local and national government, trying to get a clear idea of priority gaps in their intelligence. And we've been working across a range of data in our collections to see how these can be applied. We are also exploring the rapid acquisition of new data to meet known gaps. As a start, we have produced a series of short outputs exploring various elements of how Covid-19 is affecting cities and those living in them: environmental quality, housing markets, and economy.  You can find a full list of publications to-date at https://www.ubdc.ac.uk/research/research-projects/urban-impacts-of-covid-19/latest-updates/.
Looking ahead, we have plans for a much wider set of measures and a dashboard to provide access to these for a wide range of non-technical users.
Can you tell us a bit about the work you've been doing with GCC?
Glasgow City Council has been a key partner for UBDC for many years. We've collaborated with them on several projects but one has been particularly timely. Before the crisis began, we'd been working with them and with the Glasgow Centre for Population Health to develop a method of counting pedestrians in the city centre. The project was set up to help the Council evaluate its investment in the Avenues project – major improvements in the public realm. Our approach was to use spare capacity in the city's CCTV system to capture images of specific streets and then apply open-source object detection algorithms to measure activity levels – pedestrian numbers but also cyclists and vehicles. A pilot study over November/December 2019 showed the system was reliable. You can read more about the project here https://www.ubdc.ac.uk/news-media/2020/april/using-spare-cctv-capacity-to-monitor-activity-levels-during-the-covid-19-pandemic/.
As we've been collecting data since November, we can measure how activity levels have responded to the lockdown restrictions – and they show a substantial drop. As we move towards easing restrictions, the system will enable the Council to see, on a daily basis, how and where people are returning to the city centre. We are working with them to expand the number of cameras involved, as well as bringing in data from other vehicle detection sources and bike counters from across the city to give a daily picture of movement in Glasgow by different modes. And we are talking to other authorities about applying the same technologies there.
How do you envisage data will be used as we begin to come out of COVID-19? 
Along with many others, we've been 'banging the drum' for data for many years now, arguing that public policy can derive enormous value from this in many ways. While there has always been high-level support for better use of data, it has been a struggle to achieve progress on the ground. Obstacles have included a lack of funding and research capacity for many public bodies, but also a culture of caution: organisations are quick to see the risks of opening up data but slower to see the advantages.
The crisis has demonstrated the value of data like never before. We see daily summaries of hospital statistics or the latest health research. Data access that would have taken years to achieve – if at all – has been delivered in weeks and generated immensely valuable insights. The OpenSAFELY group's work in England in securing access to 16 million GP records in weeks would be the prime example (https://www.medrxiv.org/content/10.1101/2020.05.06.20092999v1). The Scottish Government has its own data taskforce, which is trying to deliver similar improvements here. Although these changes have been justified by the immediate crisis, it is hard to see we will return to old ways of working in the future.
For UBDC, the crisis has encouraged us to develop a whole new area of activity. Alongside our research and data service, we see a valuable role for the Centre as a provider of urban intelligence which can support the work of large numbers of policy makers and practitioners. That requires an understanding of the technical and legal issues in getting and analysing data, and the capacity to provide information in an accessible manner, but also an understanding of the policy challenges and of what information is most relevant. With our unusual combination of social science and data science, we are probably uniquely well-placed to deliver this.
Are you a member of Technology Scotland that has been contributing to the COVID-19 response? Get in touch with us at [email protected] if you would like to be featured in this blog series.