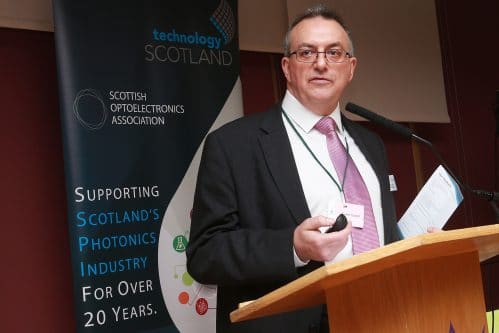 Since 2016, Enigma People Solutions has partnered with Technology Scotland to help build strong relationships across the Enabling Technology Sector here in Scotland and further afield. With some truly exciting things happening at the moment across the sector, we thought we would have a chat with Stephen Taylor, CEO of Technology Scotland, to find out more about his career, enabling technology and the role of Technology Scotland within the industry.
Hi Stephen, thanks for chatting with us. Firstly, could you tell us a little about yourself and what you do?
My name is Stephen Taylor. I'm the Chief Executive of Technology Scotland.
Technology Scotland is the industry association for enabling technology and smart mobility in Scotland. We've built the association from zero members, two or three years ago, to some 114 members today. I've been really happy with the development of Technology Scotland and even happier because it's not just about technology as such; we've also created two new networks – and one around a market!
First, I believe we have been successful in getting photonics back onto the agenda within the Scottish Government and Scottish Enterprise. In particular, I think we've been successful in getting the photonics community together again and collaborating more with each other through events and workshops.
Second, there was a small dormant cluster in Scotland around Mobility as a Service (MaaS) and we've grown that to some 70 members in the last 18 months, which is an astonishing growth. We believe it to be the biggest mobility cluster in Europe, if not the world. In fact, how we've built our MaaS network in Scotland has been recognised by places like Sydney, Quebec and Barcelona, to name a few, and they're now modelling their own networks on our process. I think that is a great testament to the people who have been involved in MaaS Scotland, and it's terrific that Scotland is being seen as a leader in the world in that particular market.
We've also just recently launched a third cluster – Design Network Scotland. Like Mobility as a Service, there's a nice concentration of design companies in Scotland and so we've launched a network surrounding that and I'm excited to see where that leads us.
How did your career journey lead you to become CEO of Technology Scotland?
That's an interesting question. I wasn't particularly looking for a new job at the time but I was approached by a recruitment agency that had looked at my LinkedIn profile, my mix of skills, and saw that I had been involved in semiconductors, manufacturing, advanced manufacturing, photonics, and sales, as well as being involved in global business, managing people, and P&L accountability. They were looking for somebody who had all those skills, and perhaps more.
When they approached me to ask if would I be interested in this role, I thought about it and I decided "you know I really am". For many years I have been living in Scotland but working mainly abroad. I felt like I had a good mix of skills, and that I could truly put something back into the local economy.
Heading towards the end of my career, I decided I could do without so much international travel, and working locally would be a really interesting thing to do. I concluded this was a really great opportunity, the job spec was terrific, and the chance of using the skills that I'd built up over 30 years or so in business and putting something back into the Scottish/UK economy was something that really appealed.
Technology Scotland was looking for someone with good understanding of enabling technology and what it can do. So with my background in semiconductors, photonics, advanced manufacturing, and my sales and business career, I seemed to be a really good fit for the role.
The job can be fascinating. Just recently, we met with the current Executive Director of Innovate UK, who is relatively new to the role. He was keen to meet with Technology Scotland members, to get feedback on how Innovate UK can help them. Things like that, which pop up are really exciting. We had a terrific, interactive session with some 20 members involved. Innovate UK has a near billion pound a year budget for innovation projects, so the opportunities that can arise are a really exciting thing to be involved in.
Tell us about a defining moment in your career to date?
Within Jabil I progressed from business development and sales, to running a P&L business, which meant I had accountability not only for sales and business development, but also for the manufacture and delivery of products. It was a terrific new challenge for me.
However, the defining moment for me, was when Jabil decided to create a component business because they were looking to become more vertical in their offerings to their end customers. It wasn't just about making board assemblies any longer, but also making the plastics, metal and the other components involved in supplying an entire product to the end customers.