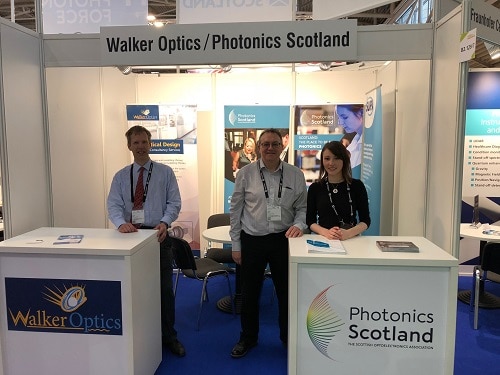 Photonics Scotland at Laser Munich: the Wrap Up
Photonics Scotland was delighted to attend Laser World of Photonics in Munich at the end of June, the world's leading trade fair for Photonics. The team was based on the Scottish Pavilion, an area showcasing the latest research, technologies and capabilities from Scotland's Photonics Sector, alongside member companies including Helia Photonics, Optocap, Fraunhofer UK and Walker Optics.
This was also our first international event exhibiting as Photonics Scotland following a highly successful rebrand of the Scottish Optoelectronics Association in April 2019. It was fantastic to receive so many compliments on the rebrand and our Civic Reception, and we enjoyed catching up with many of the attendees who came to Scotland as part of the EPIC AGM delegation earlier this year.
Among a range of activities and meeting, we were keen to be active with other photonics clusters and in cluster meetings, ensuring we can discuss shared topics of interest and raise the profile of Scottish Photonics on an international stage. During the week, we attended a cluster dinner with counterparts from Germany, France, the USA, Finland, Japan, the Netherlands and more, where we spoke about key themes including skills, events and funding. We also attended events hosted by the Berlin Brandenburg region, Canada, Spain and the UK, where we were able to discuss the Photonics Leadership Groups's latest analysis of the sector, showing that seven UK regions produce a £billion or more in photonics output, Scotland included. Read more about that here.
However, the highlight of the week was our traditional Whisky Tasting Reception, held in partnership with and kindly supported by QuantIC. The event attracted a crowd of around 250 people from across the globe, and gave attendees the opportunity to enjoy a sample of some of Scotland's premier whiskies, network, and showcase QuantIC's ground-breaking work. The Reception gave us the opportunity to greatly increase awareness of Scotland's capability and helped in re-establishing Photonics Scotland following its rebrand.
This year's Laser World of Photonics 2019 saw a record 34,000 visitors, an increase from the 32,700 visitors in 2017. There was also an increase in the number of exhibitors, which totalled 1,325 this year.