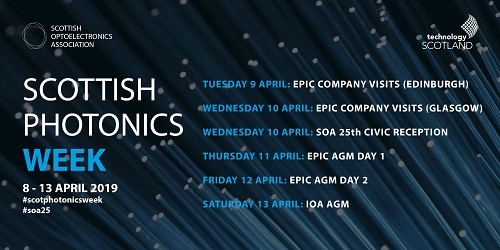 Scottish Optoelectronics Association announces Scottish Photonics Week
The Scottish Optoelectronics Association (SOA) is delighted to announce Scottish Photonics Week, a week-long series of events designed to mark the 25th anniversary of the SOA and showcase Scotland's photonics expertise.
To open Scottish Photonics Week, welcome the EPIC AGM delegates and celebrate its 25th anniversary, the SOA is hosting a Civic Reception and Networking Dinner at Glasgow City Chambers, hosted by the RH Lord Provost of Glasgow, Eva Bolander, and with an address from Derek Mackay MSP, Cabinet Secretary for Finance, Economy and Fair Work. During the evening, we will also be presenting our White Paper, 'Scottish Photonics: A Vision for 2030' to the Cabinet Secretary.
As a valued member of our community, we warmly welcome you to join us to share in our celebrations!
The week will also see the SOA supporting the European Photonics Industry Consortium (EPIC) to bring its Annual General Meeting to Scotland – the first time in its history that the event has been held in the UK – which will be held on 11-12th April at the Technology & Innovation Centre. The conference brings together over 200 senior level delegates from 30 countries, and we are delighted that they have chosen Glasgow as their location for 2019.
At the same time, the International Optoelectronics Association (IOA) will also be holding its AGM in Glasgow.
All EPIC members* can register for the AGM and view the agenda below.
*All SOA members who are not currently a member of EPIC can get a special 50% discount on their first year of membership if they sign up prior to the event. If you're interested in joining, please contact [email protected] referencing this offer.
We very much look forward to seeing you there!