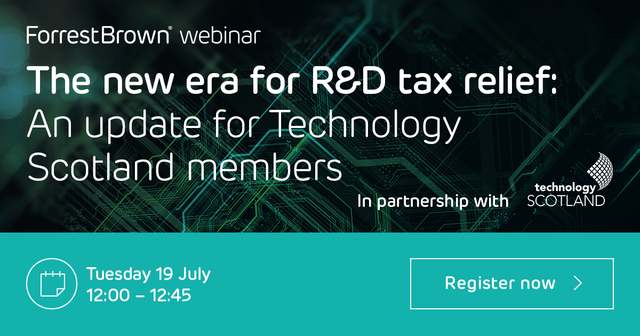 The new era for R&D tax relief: An update for Technology Scotland members
The Scottish tech sector faces three key challenges: skills shortages, rising costs and mounting pressures surrounding net zero.
Innovation will help businesses meet and, ultimately, rise above these challenges by driving new growth. Investment in innovation is, however, capital intensive.
As a vital and reliable source of funding, R&D tax relief can help. But the incentive is currently undergoing significant change. Even if you've claimed for many years, strategic adjustments are now essential. If you're yet to benefit, it's never been more important to consider R&D funding.
To help, Technology Scotland is hosting a webinar in partnership with the UK's leading R&D tax advisory firm, ForrestBrown. The webinar will reveal what's changed, what you need to do next and how to use innovation funding to secure a competitive advantage.
In the webinar, we will cover:
How HMRC's approach has changed and what the future holds for the R&D incentive.
How to capture the full value of your innovation, with advice based on the latest guidance.
Practical recommendations on how to navigate HMRC's changing approach.