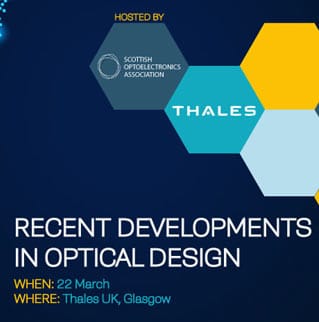 Recent Developments in Optical Design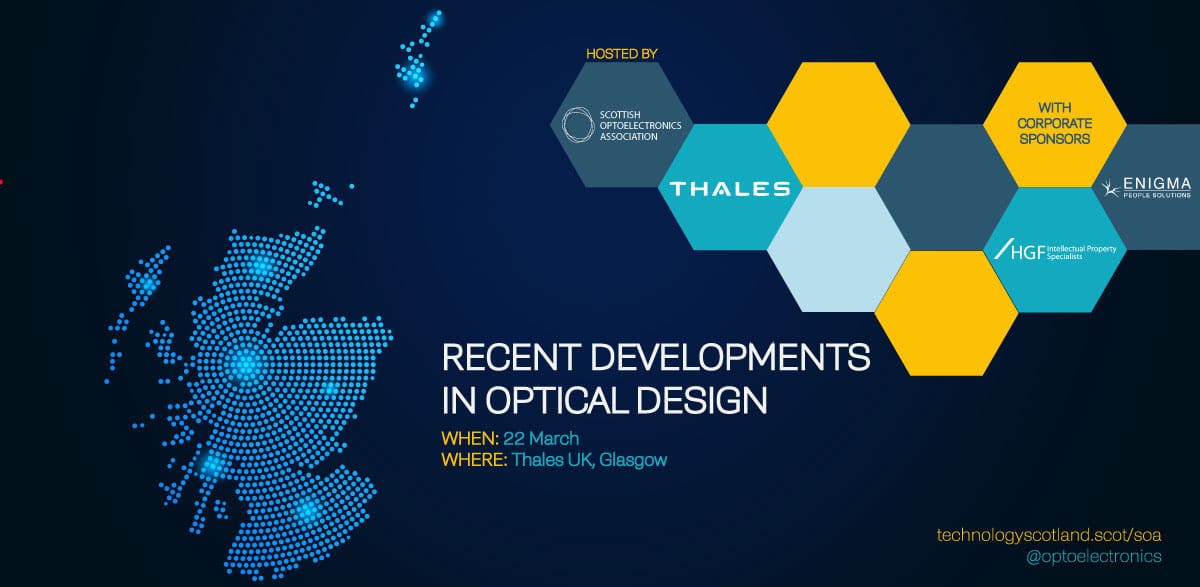 Where: Thales, 1 Linthouse Road, Glasgow
When: 22nd March 2018, 08:30 – 13:30
Register here >
** Please note: tickets to this event are limited and reserved strictly for optical designers currently based in Scotland **
Photonics in Scotland
For over a century, Scotland has been at the cutting edge of photonic innovation. With over 50 companies at the heart of the Scottish photonics cluster, the economic impact is substantial.
Approximately half of the cluster's £750m output is exported, with the rest supporting important domestic sectors including defence, oil and gas, renewable energy, manufacturing and communications.
About the Workshop
Optical design is a rapidly developing field in the sector. Recent advancements in lasers, compound semiconductors, and end user applications, coupled with growing demand for higher speed, higher power photonic devices present increasingly challenging demands on optical system design.
Faced with these increased performance requirements, optical designers must utilise new technologies, including improved software, powerful computing platforms, new optical materials and advanced coatings to improve overall optical and system performance.
With this in mind, the Scottish Optoelectronics Association (SOA) aims to create a working group focused on optical design in Scotland, providing a series of workshops for engineers, scientists and designers to network, explore new collaboration opportunities, and stay up-to-date with advancements in this field.
The first workshop of this kind will take place at Thales in Glasgow on 22nd March 2018. At this half-day event, attendees will hear 4 of Scotland's leading photonics organisations discuss their current work, strengths and challenges in optical design. There will also be excellent opportunities for networking, a round-table discussion of future potential workshops, and refreshments.
Agenda
08:30 – Morning refreshments and networking
09:15 – SOA welcome: Stephen Taylor, CEO of Technology Scotland
09:30 – Ian Thomson, Thales
10:00 – David Henry and David Lee, UK ATC
10:30 – Networking break
11:00 – Duncan Walker, Walker Optics: 'Freelance optical design – an independent view'
11:30 – Speaker 4: TBC
12:00 – Optical Design roundtable discussion: Stephen Taylor, CEO of Technology Scotland