Product Design: Accelerating Innovation in Healthcare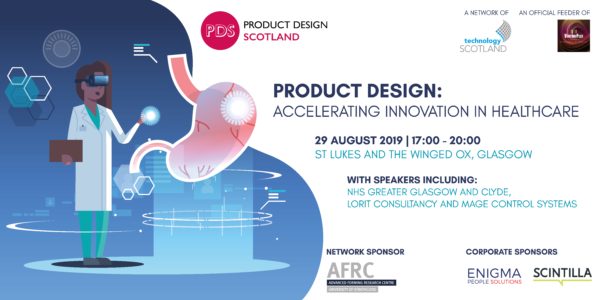 PRODUCT DESIGN: ACCELERATING INNOVATION IN HEALTHCARE
WHERE: St Lukes and the Winged Ox, 17 Bain Street, Glasgow
WHEN: 29 August 2019, 17:00 – 20:00
ABOUT THE EVENT
Innovation within the healthcare sector is accelerating at an unprecedented rate, fuelled by the desire to significantly improve the way we diagnose, monitor, treat and care for our patients. These developments are not only resulting in better outcomes for patients, but also improving the working environment for clinicians and reducing costs to healthcare providers.
Within this dynamic and constantly evolving field, the role of user-centred design is becoming ever more important, ensuring that newly developed technologies and services are providing maximum positive impact for patients while improving the overall effectiveness of our public services. This requires a multi-disciplinary and integrated design approach.
Now in its fourth year, Product Design Scotland's traditional summer design event will explore the role of product design in supporting the delivery of healthcare innovation. Attendees will hear perspectives from experts on NHS design approaches, quality management considerations and the views from the design consultancy sector.
At the end of the formal presentations, attendees are invited to continue discussions during a drinks reception with nibbles, all within the fantastic setting of St. Luke's, a former church now top Glasgow Arts venue.
This is always a popular event so book your place early to avoid disappointment.
SPEAKERS
Robin Sayer: Technical Operations Manager, Medical Devices Unit, NHS Greater Glasgow and Clyde
Accelerating the introduction of medical device technology within the NHS
Stuart Hardie: Quality Management Consultant, Lorit Consultancy
Quality Management – What's the Point? Introducing Quality Management and why it's worth the investment
Matthew Love: Managing Director, Mage Control Systems Limited
The  development of safety critical control systems for medical devices
AGENDA
(please note this may be subject to change)
1700: Arrival and coffee
1730: Welcome, Ally McInroy, Senior Programme Manager, Technology Scotland
1740: Robin Sayer, Technical Operations Manager, Medical Devices Unit, NHS Greater Glasgow and Clyde
1800: Peter McBride, Founder, Scintilla IP
1805: Stuart Hardie, Quality Management Consultant, Lorit Consultancy
1825: Ben Hanley, Owner, Enigma People Solutions
1830: Matthew Love, Managing Director, Mage Control Systems Limited
1850: Rory Ingram, Product Realisation Technical Team Lead, AFRC
1900: Close and drinks reception