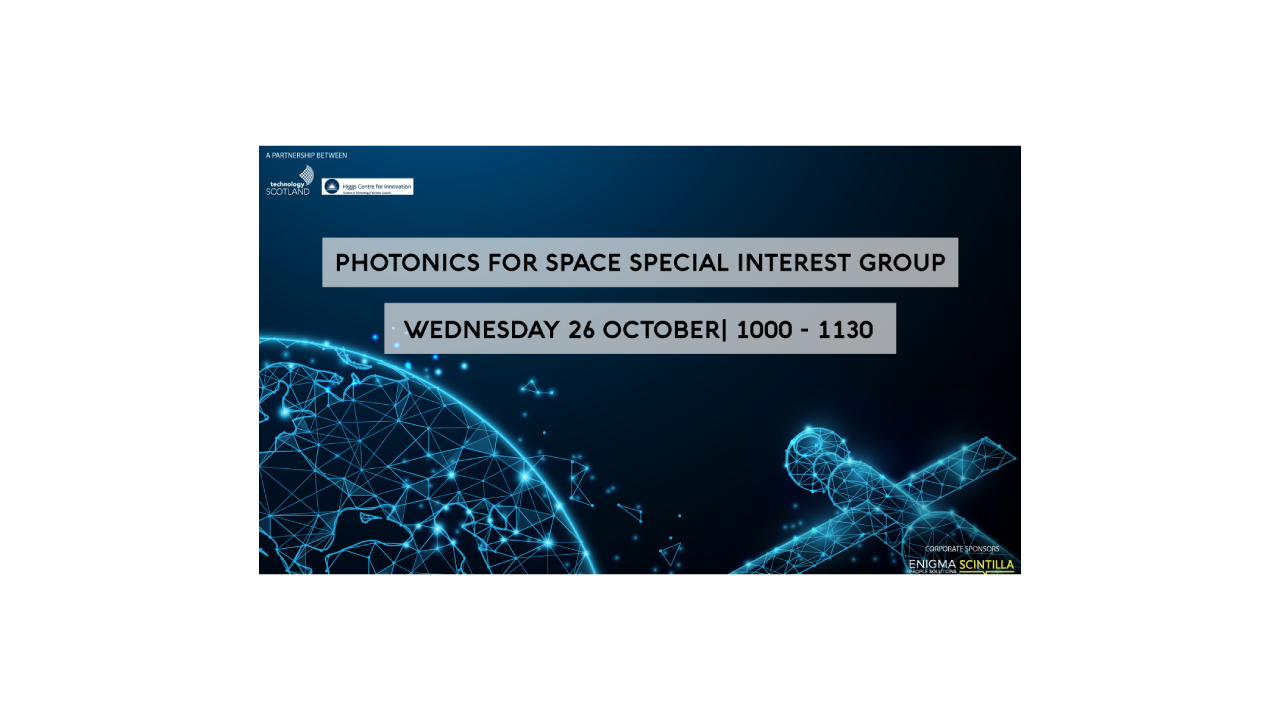 Photonics for Space Special Interest Group
About meeting 8:
In this meeting of the Photonics for Space Special Interest Group, hosted by our members Heriot-Watt University, we shall be concentrating on Space Optical Comms, and hear from several experts from Heriot-Watt University and Fraunhofer UK who are working in the field.
Through a large multi-university funded project, the Quantum Communications Hub, academics at Heriot-Watt University are developing a new optical ground station (OGS) research facility, https://www.hw.ac.uk/news/articles/2022/errol-aerodrome-chosen-to-host-new-quantum.htm, to do satellite-based quantum communications. The facility aims to support UK missions and international engagement in satellite optical/quantum communications.
Beyond communications, the facility also welcomes engagements from other research themes that could take advantage of the 70 cm OGS, such as; space-situational-awareness, photonic payload testing, and imaging (measurement and processing). We also see this facility being used to generate much-needed environmental/channel data for optical/quantum communications, as most of the data used for simulations/modelling comes from high-altitude OGS.
Dr Ross Donaldson, an Assistant Professor and RAEng Research Fellow, will provide an overview of the research facility, the research vision, and how to engage with the facility.
Professor Derryck Reid, Deputy Director of Heriot-Watt's Institute of Photonics and Quantum Sciences and group head and PI of Ultrafast Optics Group will present bonded laser design at multi-GHz rep rate for space.
Dr Gerld Bonner, Senior Researchers at Fraunhofer UK will provide an overview of space optical comms work that is being carried out at the Centre of Applied Photonics.
Background: Photonics in the space sector
For over a century, Scotland has been at the cutting edge of photonics innovation. With over 60 companies at the heart of the Scottish photonics cluster, this 'invisible technology' underpins a vast range of vertical markets. One of these markets, and a currently growing sector for Scotland, is space.
Almost one fifth of all UK jobs in the space sector are based in Scotland. Scotland produces more small satellites than any other country in Europe, and aims to be the first country in Europe to provide a complete solution for the manufacture and launch of small satellites, supporting satellite and environmental data analysis and critical earth observation.
Technology Scotland in partnership with the Higgs Centre for Innovation, is currently exploring ways to further highlight the role of photonics in the space sector, with particular emphasis on supporting members to realise potential opportunities, removing some of the stigmas surrounding barriers to the space sector, signposting towards relevant funding and nurturing a community to help build an ecosystem for the space sector within Scotland.
Objectives of this Special Interest Group
Technology Scotland's Photonics for Space Special Interest Group has an overarching goal to support its members to understand the opportunities that exist for photonics companies within the space sector. We recognise that this sector can be perceived as having barriers to entry; however there are potentially good opportunities for our members. Non-participation can often be attributed to a basic lack of knowledge relating to specific markets, test requirements, manufacturing considerations, or regulatory frameworks.
Technology Scotland's Photonics for Space Special Interest Group aims to allay these apprehensions by improving visibility of the potential opportunities and sharing the experience of those already operating in the local supply chain, creating forums for knowledge exchange and collaboration and signposting to appropriate support.