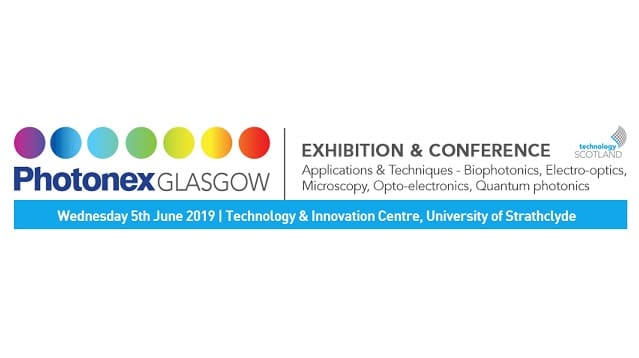 PHOTONEX Glasgow 2019

Photonics Scotland to exhibit at PHOTONEX Glasgow 2019 / 20% discount on exhibition fees for members!
The PHOTONEX Exhibition & Conference returns to Glasgow this year after a successful event in Edinburgh, again at the University of Strathclyde's Technology & Innovation Centre in Glasgow.
When: Wednesday 5th June 2019
Where: TIC, University of Strathclyde, Glasgow
Now in its sixth edition in Scotland this annual conference attracts delegates from across academia and industry. It's a free to attend, one-day meeting and will be ideal for anyone wishing to learn more about biophotonics, photonics and microscopy subjects in bio-medical-life science disciplines.
Speakers will present their latest work in this field and will give attendees an invaluable opportunity to learn about the latest technology developments and most interesting applications.
Technology Scotland is supporting this event with a Photonics Scotland exhibition stand. Our Senior Programme Manager, Dr. Alastair McInroy, is also sitting on the Technical Programme committee for the Advances in Tools & Techniques for the Life Sciences meeting. He and his fellow committee members have come up with a great programme.
New for 2019, there will also be a full day programme on Quantum Technologies, the Fraunhofer and Quantic, Quantum Technologies Day. In addition to photonics technologies, there will also be the opportunity to explore new vacuum technologies. The event is a great opportunity to network for new connections and potential new business and we encourage members to get involved and exhibit!
We have secured a 20% discount for our members and wish to pass this offer on to you. With only a few spaces left we encourage you take a look and consider exhibiting.
If you're interested in this opportunity, please email [email protected] or go direct to Xmark Media on 01372 750555 ([email protected]) for more information.