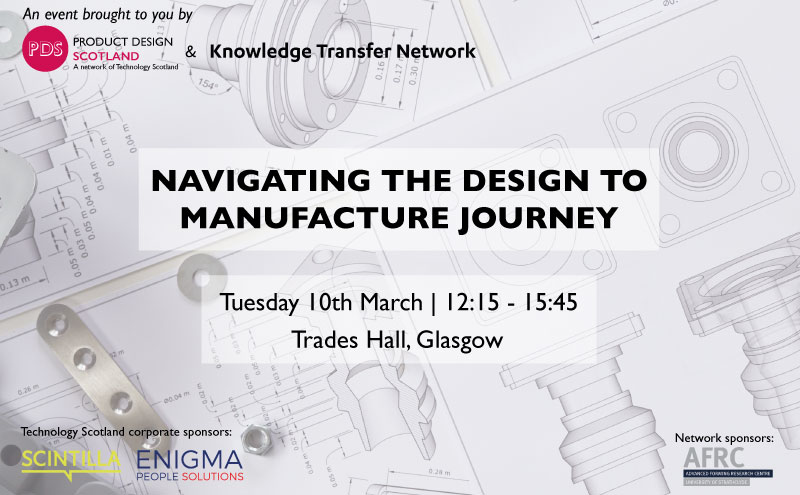 Navigating the design to manufacture journey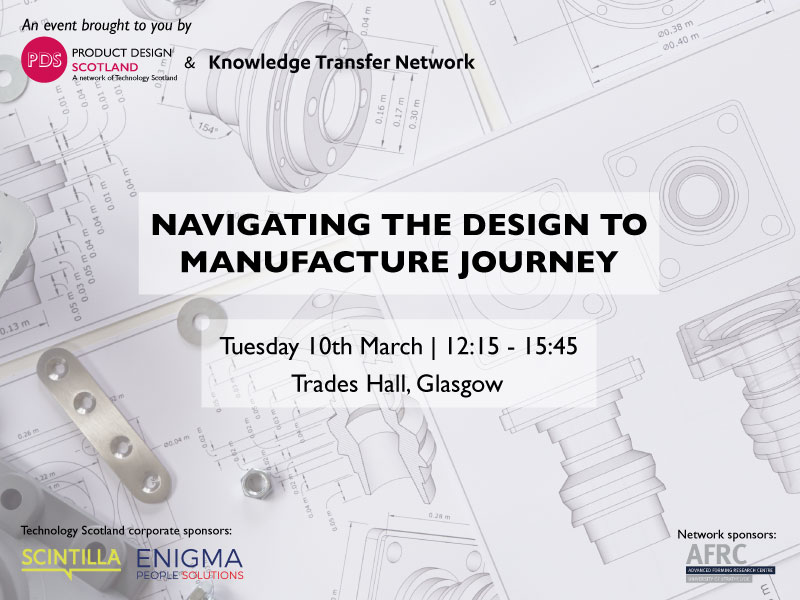 Navigating the design to manufacture journey
When: Tuesday 10 March | 12:15 – 15:45
Where: Trades Hall, 85 Glassford Street, Glasgow, G1 1UH
Background
Turning an idea into a commercial product is a challenge that faces many entrepreneurs, innovators and SMEs. The design to manufacture process must be given careful consideration to ensure that development costs, timelines and expectations are managed effectively.
Navigating this process can be daunting and good communication between stakeholders is vital. By understanding what designers and manufacturers value throughout the process, it becomes easier to build good working relationships and implement processes that will reduce costly and time consuming changes further along the development timeline.
This workshop will provide attendees with an opportunity to hear from representatives across the design to manufacture space who will share their own perspectives on the challenges and important considerations that should inform early stage product development.
This will be an interactive session and significant time will be allocated for questions and discussion.
Topics covered will include:
• Stakeholder alignment and communication
• Design and engineering processes
• Supply management
• Design Planning Tools
• Prototype manufacture
• Managing costs
• Risk management
• Change management
• IP ownership
What you can expect from this workshop:
Actionable advice for innovators and SMEs looking to embark on the design to manufacture process
A better understanding of the key considerations and challenges affecting designers and manufactures throughout the process
An opportunity to create new commercial partnerships
Who this workshop is aimed at:
Innovators – SMEs, spin-outs, academics
Technology providers/systems integrators
Design consultancies
Contract manufacturers
Agenda
1215 – 1300 Lunch
1300 – 1315 Welcome:
– Ally McInroy, CEO, Technology Scotland
– Abi Hird, Knowledge Transfer Manager, KTN
1315 – 1415 Presentations:
– Victoria Hamilton, Director and Founder, VH Innovations (Recoil)
– Tristan Elliot, Business Development Director, i4 Product Design
– John Toal, Business Development Director, Tharsus
1415 – 1445 Coffee break
1445 – 1545 Panel session:
– Tristan Elliot, Business Development Director, i4 Product Design
– John Toal, Business Development Director, Tharsus
– Victoria Hamilton, Director and Founder, VH Innovations
– Stuart Kelly, Technical Director, Systolic
Others, TBC
1545 Close