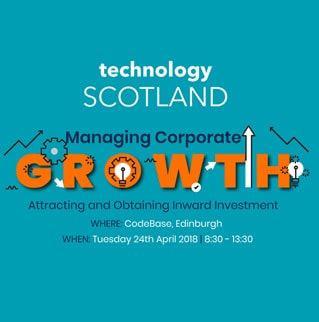 Managing Corporate Growth: Attracting and Obtaining Inward Investment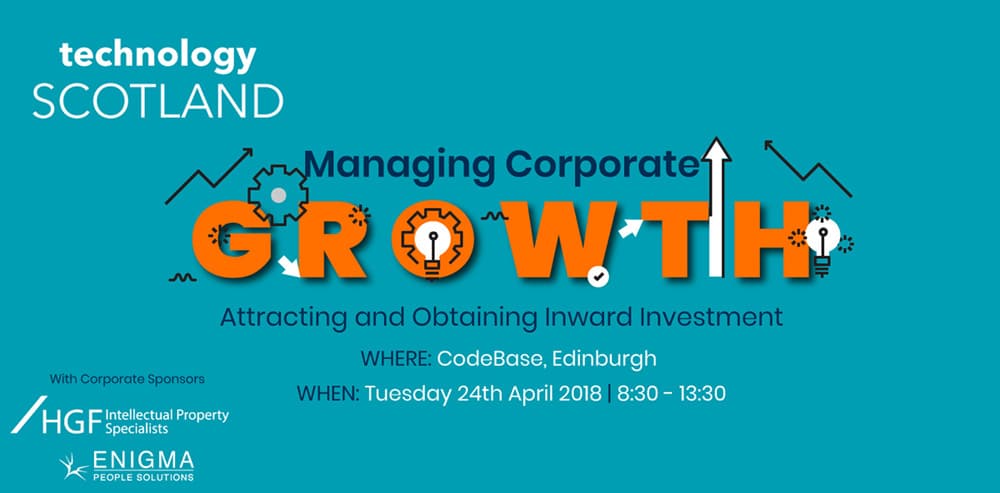 With Corporate Sponsors, Enigma People Solutions & HGF Ltd
When: 24 April, 08:30 – 13:30
Where: CodeBase, 38 Castle Terrace, Edinburgh
A recent survey by accountancy firm EY put Glasgow, Edinburgh and Aberdeen in the UK's top 10 cities for attracting foreign direct investment, establishing Scotland as the UK's second-placed destination for FDI projects behind London. In particular, Scotland's success in attracting technology, life sciences and software projects from overseas has proved crucial to its success. With a highly skilled workforce, a growing economy with a strong Emerging & Enabling (E&E) Technologies Cluster, in addition to an excellent innovation infrastructure, now is the time to invest in Scotland.
This event is an opportunity to engage and make contact with with a range of expert speakers from Scotland's E&E sector who are or have been at different points in the investment process. From Venture Capital companies looking to invest in new projects, to SMEs who have already experienced investment, and large multi-nationals with a track record of investing in smaller companies, this event will provide a comprehensive overview of the opportunities available and explore how to adapt to their impact.
FREE REGISTRATION >
Agenda & Speakers
08:30 – Arrival, refreshments and networking
09:00 – Welcome:
Stephen Taylor, Technology Scotland
09:15 – Key Note Speaker:
Seonaidh MacDonald, Chairman & CEO, EOLAS (Advisory) Ltd and former CEO of mLed: 'The Road to Exit'
10:00 – CodeBase Case Study
10:30 – Networking Break
11:00 – Angel Investor
Nick Jones, Galvanise
11:30: TBC
12:00 – Lunch
13:00 – Finish
About our Key Note Speaker
Seonaidh MacDonald, Chairman & CEO, EOLAS (Advisory) Ltd
Seonaidh was until late 2016 CEO of mLED Ltd, a leader in micro-displays for Augmented/Virtual Reality products. In 2016 he led mLED to a hugely successful exit to a U.S household name. He is currently Chairman & CEO of EOLAS (Advisory) Ltd, a boardroom advisory firm, and Vice Chair of TLP, a Social Enterprise organisation.
Prior to mLED, Seonaidh was Chairman of Hebridean Power Ltd, a renewables company, he was Deputy Managing Director & Business Services Director on the Board of Babcock Marine Clyde Ltd, helping to negotiate the strategic £2.5Billion UK Naval Base contract extension.
Between 1997-2005, Seonaidh held a variety of senior leadership roles at IBM Corp, leading worldwide teams across Engineering, Supply Chain, Global Operations, and Procurement functions. With over 25 years of international executive management experience, maximising growth within fiercely competitive environments, Seonaidh boasts an outstanding record of delivery as a street smart, goal-driven board executive.
FREE REGISTRATION >