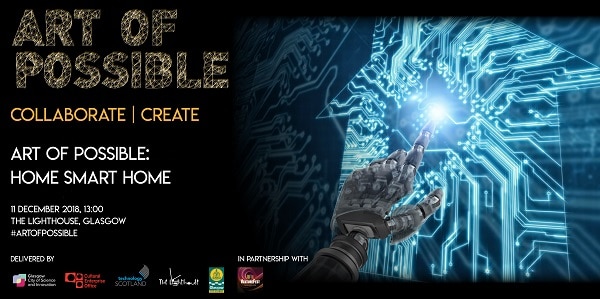 Art of Possible: Home Smart Home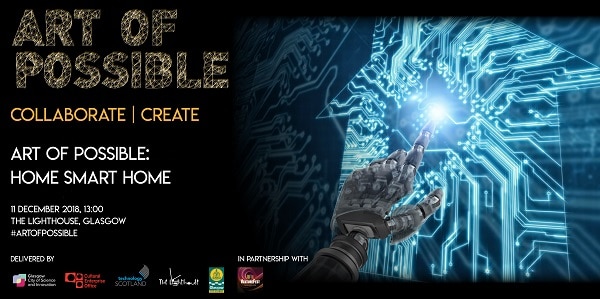 Art of Possible: Home Smart Home
Date: December 11th 2018
Time: 13:00 arrival for 13:30 start – Lunch is not provided but attendees are encouraged to network over drinks and light bites after the event!
Venue: The Lighthouse, Gallery 4, 56 Mitchell Street, Glasgow, G1 3LX
Ticket Cost: Free – SIGN UP NOW
(Please note: we gratefully request 24 hours' notice for cancellations or you may be charged £25 to cover incurred costs)
Calling all Design Thinkers, Creatives, Technological Innovators, Scientists and Civic Entrepreneurs!
The Art of Possible is back with a new series of inspirational events & workshops that bring together Scotland's creatives, policy-makers and STEM professionals to consider civic uses for the regions' world-leading emerging and enabling (E&E) technologies.
The first event in our new series Homes Smart Home will explore how, in an ageing society, we re-think housing design to help us live well, independently and safer for longer.
Home Smart Home is delighted to introduce you to a group of ground-breaking, inspirational innovators and knowledge experts in Scotland working creatively and collaboratively (across business, academia, government and the third sector) to drive the diffusion of disruptive technologies in construction design and within the built environment including:
Matt Stevenson, MD of Carbon Dynamic will talk about the company's inspirational project with Albyn Housing Society and NHS Highland to develop "fit homes" with smart technologies, aimed at enabling people to continue living independently rather than being admitted to hospital or residential care. The company has also manufactured homes for the Edinburgh-based Social Bite Village for homeless people and most recently the new Dyson student village.
Claire McGarry, MD of Wireframe Immersive, who will talk about their innovative partnership with Aitken Turnbull and Hammond Care Dementia Centre to develop a new virtual reality simulation that helps architects and designers create dementia-friendly buildings and spaces by understanding how dementia can affect a person's vision and overall living experience.
Dr Sinan Sinanovic of Glasgow Caledonian University will discuss GCU's novel LED-enabled tracking device, LEDBIT (LED-Based Indoor Tracking), for people with dementia to live independently & give families peace of mind. Funded by the Digital Health and Care Institute, the device has recently been shortlisted for a Times Higher Education Technical Innovation of the Year Award.
Gillian Anderson, Digital Lead for Alzheimer Scotland, uses her skills to understand and translate the technical into practical use and works with innovators and creators of technology products and services to encourage them to hear the voices and experiences of people living with dementia and create well designed, elegant solutions.
Joyce Gray, Deputy Director of Development drives the design innovation programme at Alzheimer Scotland pioneering the use of creativity to help build collaborative user driven service innovation.
As a group, we will redefine the "art of possible" by broadening our understanding of E&E technologies and how we can exploit this technology to design new business models, products and services to innovate for society; sparking new ideas, peer-to-peer learning and co-creation across sectors – from housing and health to design and construction.
Art of Possible is about connecting our diverse innovation community. We want to achieve a strong STEAMS (Science, Tech, Engineering, Art & Design, Maths, Social Sciences) cross-sectoral presence – so please share this event with colleagues across all sectors!
ON THE DAY
I. BROADCAST: TECH CASE STUDIES | Panel Session (Chaired by Rachael Brown, Cultural Enterprise Office)
STRUCTURED Q&A| Workshop (Supported by Panellists). Delving deeper on successfulmodels for socially-driven innovation including workplace culture and values, mind-set, multi-sector co-innovation, funding/investment and internationalisation.
III. FESTIVE BEER, WINE AND BITES | Get Social with Live Tech Demonstrators!
We look forward to seeing you there!
Places are limited, please contact [email protected] with any questions.
What previous Art of Possible attendees said:
"A stimulating & enjoyable experience both learning from experts, and sharing & developing ideas amongst fellow participants"
"Great to see the innovation community in Scotland coming together to try to encourage growth in the sector. Great team!"
"A most worthwhile & enjoyable event."
Art of Possible is an official Feeder event of VentureFest Scotland (www.venturefest.scot) – a year-long festival of discovery, innovation and enlightened entrepreneurship!