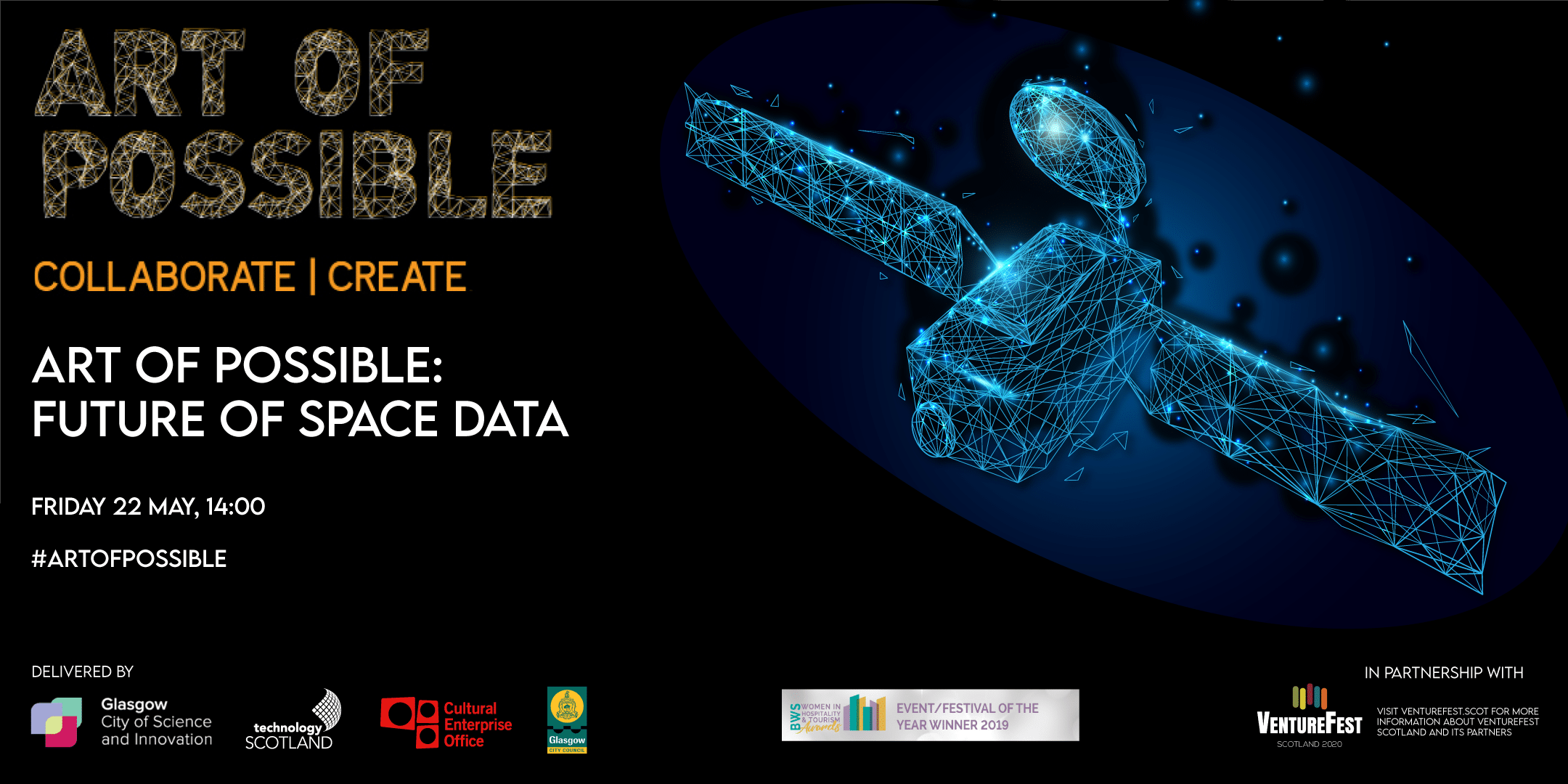 Art of Possible: Future of Space Data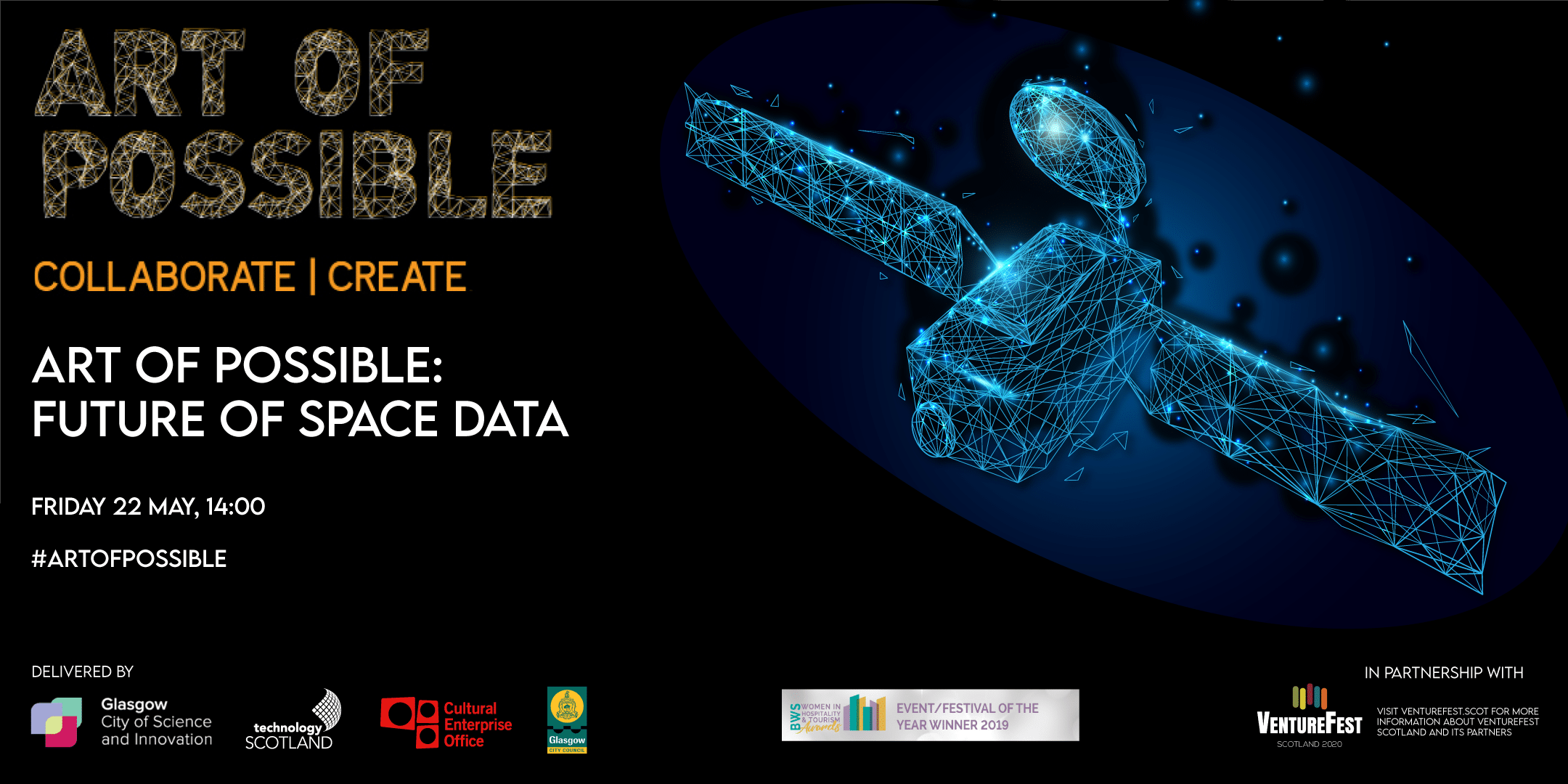 The Art of Possible programme is delivered by Glasgow City of Science & Innovation, Technology Scotland, Cultural Enterprise Office and Glasgow City Council, in partnership with VentureFest Scotland.
Date: Friday 22nd May 2020
Time: 14:00
Venue: ONLINE EVENT
About this Event
The award winning event series Art of Possible is back with a new series of inspirational events & workshops that bring together Scotland's creatives, policy-makers and STEM professionals to consider challenge-based applications for the regions' world-leading emerging and enabling technologies.
Could space data be doing more for you? 'The Future of Space Data' will explore how this emerging technology, combined with the right business understanding, human creativity and insight, could result in major opportunities to help solve some of our most important economic and societal challenges.
At our first event of 2020, hear from experts who will explore the adoption of space data across a range of sectors – from disrupting the e-fitness industry and improving waste management to tackling climate change and renewable energy.
We will also discuss the key questions that will enable society to realise the full potential of this technology.
At 'The Future of Space Data' we will hear from a variety of leaders on how industry must adapt, open the doors for cross-sector collaboration, and harness the power of disruptive technologies for the benefit of business and society. In the process, the event will introduce you to a group of ground-breaking and inspirational creators, innovators and knowledge experts in Scotland, working to drive the diffusion of disruptive technologies across a range of sectors.
This event will take place online and all registered attendees will be emailed the details prior to the start of the event.
PANELLISTS
Steve Owens is a founder of Huli – a company that uses space data to help create the best route for a range of outdoor pursuits. Steve will talk about how Huli is disrupting the e-fitness market – helping cyclists, runners and hikers easily create routes that perfectly meet their needs, anywhere in the World.
_________________________________________________________________________________________________
Encarni Medina-Lopez is an engineer with a PhD in Energy Systems & Dynamics of Biogeochemical Flows and is a Chancellor's Fellow in Data Driven Innovation, Space and Satellite at the University of Edinburgh. Encarni will talk about how ocean observation is an emerging adventure with limitless possibilities including climate change, coastal management and offshore renewable energy.
__________________________________________________________________________________________________
Michael Groves is a geographer with a PhD in aerial and satellite earth observation and is founder of Topolytics – a live data platform that maps the generation, movement and fate of industrial and commercial waste. Mike will talk about how Topolytics is using new analytics and sensing technologies to enable waste producers and recycling companies to make the world's waste visible, verifiable and valuable.
__________________________________________________________________________________________________
Sarah Burns works at the University of Strathclyde supporting space activity which focusses on the applications of space technology on Earth. Previously, Sarah was the Centre Manager for the Scottish Centre of Excellence in Satellite Applications (SoXSA). SoXSA's mission was to facilitate collaboration between academia, industry and public sector with a focus on connecting the space sector in Scotland and with other sectors and industries. Sarah joins us to talk about the support available for innovation-ready SMEs to innovate with impact, with a special focus on how Strathclyde is able to support companies using space data to grow, scale and succeed.
__________________________________________________________________________________________________
Celia Davies is the Director of Omanos Analytics, a space technology start-up using satellite imagery analysis to empower communities. Omanos synthesises satellite data with information from communities, media, and NGOs, and has worked with groups from Guinea to Cambodia on issues including forced displacement, destruction of livelihoods, and environmental degradation. Omanos is currently delivering work for the European Space Agency mapping the impact of mining and oil operations. Prior to founding Omanos, Celia spent almost a decade working on media development and human rights in the former Soviet Union.
What previous Art of Possible attendees said:
"A stimulating & enjoyable experience both learning from experts, and sharing & developing ideas amongst fellow participants"
"Great to see the innovation community in Scotland coming together to try to encourage growth in the sector. Great team!"
"A most worthwhile & enjoyable event."
Art of Possible is an official Feeder event of VentureFest (www.venturefest.scot) Scotland's annual festival of discovery and innovation.